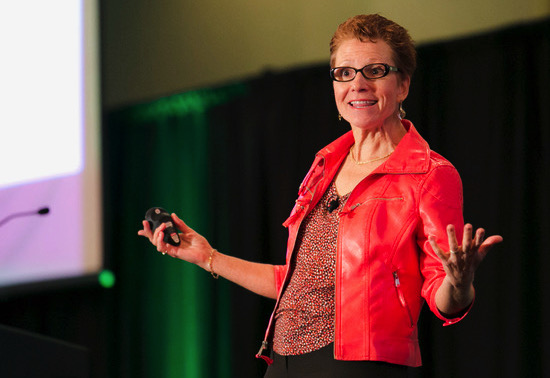 Feb. 16, 2017, Vol.15, Issue 2
Happy Heart Month! And I mean that — be happy and you might just live longer. Along with Valentine's Day, February marks American Heart Month, a great time to commit to a healthy lifestyle and make small changes that can lead to a lifetime of heart health. In the United States, heart disease is still the leading cause of death for men and women, so regardless of all the work that's being done to raise awareness and make heart healthy lifestyle changes, there's still plenty of room for improvement.
Beyond the diet and exercise advice that we hear about frequently, this issue's featured speaker, Dr. Jo (Joanne Lichten, PhD, RD)  dove into the research that shows happiness is another factor that can influence our health. Here's her story:
Heart Health: The Happiness F

actor
"When I'm consulting with people, I often hear — 'I'm going to eat whatever I want. I'd rather die young and happy.'" Dr. Jo told me. "I hear the same thing regarding the health recommendations to include more exercise or sleep. Remember Bon Jovi's song, 'I'll sleep when I'm dead?'"
"But, don't be fooled," she said. "The research is pretty clear that unhealthy food and inadequate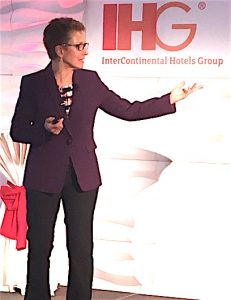 exercise and sleep lead to a greater risk for disease, including heart disease. And, poor health then increases mortality. So, living it up isn't the route to more fun. It just might lead to disease and death at an earlier age."
"What if I told you that you can have fun…and reduce your risk of heart disease? You can!  Instead of focusing on diet and exercise, focus on being a more positive, happy person. Not only will you have more fun, but the research is clear that positive people are healthier, live longer, and have fewer impairment issues as they age."
Dr. Jo cites these studies:
2012 study: positive psychological well-being (especially optimism) protects against heart disease, independently of traditional risk factors (like smoking and high blood pressure). It turns out that optimistic people are more likely to practice restorative health behaviors.
2014 study: Observed almost 3200 individuals age 60+ for eight years. Two or more impaired activities of daily living (including dressing, bathing, eating, using the toilet) developed among 4.4% of those who had a high enjoyment-of-life rating during those eight years, but among the low-enjoyment participants that number was 16.8%.
2015 study of 32,000 individuals over a 24-year period. Very happy people lived 14% longer than those who were not happy.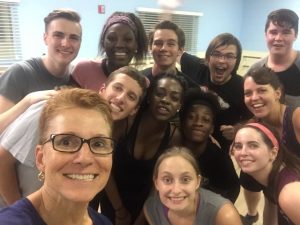 And, that's not all. Dr. Jo told me: "Happy and optimistic people are also more likely to practice those healthy behaviors mentioned earlier – like eating healthy, exercising on a regular basis, and getting adequate sleep. Happy people tend to be more creative and have better problem-solving skills and coping skills. They have a greater ability to deal with adversity. Happy people have higher rates of successful marriages and have more friends. And they tend to make more money."
Now, wait…can't you just make more money and buy happiness? Unfortunately, that doesn't compute. A recent analysis of 450,000 responses to the Gallup-Healthways Well-Being Index finds that emotional well-being increases along with income – but maxes out at about $75,000. Why? Probably because people tend to experience more happiness from experiences than from things.
She concludes from her research that you choose to be happy. No one else can do it for you. Here are some steps Dr. Jo suggests you take to be happier – in no particular order:
Maintain strong supportive relationships with people you love – and who love you back. Invest in regular date nights with your sweetie, keep up with good friends, and stay connected to your kids and grandkids.
Find at least one thing that you're passionate about – a hobby, a cause, an interest.
Have fun. Do silly things. Laugh real hard.
Realize that life is precious – so tell those very important people what they mean to you.
Stay grateful. Keep a nightly gratitude journal. And, when you stop coming up with new things you're grateful for, visit a third world country. You'll then realize that even a bed, clean water, and electricity at the flip of a switch is something that not everyone has.
Be mindful. Just observe things (including your own thoughts) in a non-judgmental way. Yoga and meditation really help with this.
Lose yourself in the flow. Have you ever noticed that when you're having fun, you lose track of time? That's called "flow."
Get involved in something spiritual – a religious institution or other spiritual practice that gets you thinking beyond yourself.
Focus on having fun experiences, not buying more stuff.
Spend less time on social media. Realize that nothing is ever as rosy as people tend to portray their lives. People only post their good news.
Schedule specific times during the day to open your email.
Listen to happy music like Mark Ronson/Bruno Mars hit "Uptown Funk" or Pharrell Williams' "Happy."
Practice kindness – to yourself, to someone you know, or to a complete stranger. And, when things don't go your way, don't bash yourself.
Love the ones you're with. We don't have unlimited time, so put down the phone and spend time with the people around you.
No need to do all of these things, or all at once. If the list seems overwhelming, pick out one each week, incorporate it into your daily life, and feel your happiness grow.
Dr. Jo is known as America's On-The-Go Health Guru, who helps busy people stay healthy, sane, and productive. She always delivers her program with energy, focus, and lots of audience participation so that people take home what they learn and apply it in their daily lives. To bring her expertise to your community, give me a call at 503-699-5031 or email barbara@speakwellbeing.com
Until next time, take care of yourself, and your very precious heart, for your well being and those you love.
Yours truly,
Barbara
For Your Well Being is published bi-weekly. We bring you insider speaker reports, exclusive stories about special events around the country, meeting planner tips, and fun stuff from the worlds of health and well being. Be well and be in the know!
The Speak Well Being Group is a specialized speakers bureau, focusing on speakers for hospital-sponsored community events, healthcare organizations, nurses, conferences and women's groups. Our speakers are hand-selected. They are not only experts in their fields, they connect with their audiences while bringing them life-changing information, smiles of recognition and ultimately a sense of well being and hope.
Finding the perfect keynote speaker for your special event or conference is my personal passion, not just once, but year after year. It brings me great joy to know that your audience was delighted and moved by the speaker we selected together. I'm committed to making the process easy, pleasant and fun.