Vol.15, Issue 3, March 30, 2017
Anyone who has had a cancer experience in their family knows that it's as much a life-changing experience for the family (and friends) as for the patient. Difficult as it may be, there are people in the world like our speaker, Jane Jenkins Herlong, who take that experience and share what they learned in hopes of helping others along the way. In honor of her sister's fight against breast cancer, Jane wrote her book, What Ta-Tas Teach Us. In her program by the same name, she shares her experiences, lessons learned, and her Southern sense of humor that gets her through life's difficulties.
What Ta-Tas Teach Us
Jane Jenkins Herlong on caring for her sister through breast cancer

There are a lot of performers who make people laugh, and there are a lot of speakers who give audiences solid principles for living. Jane Jenkins Herlong does both. In her program, What Ta-Tas Teach Us, she shares how she cared for her sister, Carol Hardman, through her breast cancer recovery and what she learned in the process.
Much to Jane's dismay Carol had chosen at one point to discontinue having mammograms. However, after accidentally hitting her breast, she decided to have an examination.
"It truly was a miracle," Jane said. "The technician discovered microscopic cancer diagnosed as lobular carcinoma which was in its early stages. Carol opted for a double mastectomy. I took care of her in the hospital and also took care of her while recovering at home."
That involved everything from sitting with her and being her advocate in the hospital, to sanitizing her bedroom and bathroom at home, providing healthy food, being her cheerleader, and providing a cocoon of rest so she could heal.
"I remember my sister listening to the song, 'I Will Survive' as she was wheeled into her surgery. Carol had a wonderful attitude at that time and I believe this is why she survived breast cancer."
This is not the end of the story, however.
Jane wrote What Ta-Tas Teach Us in memory of her sister only five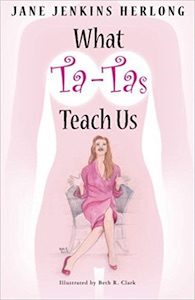 years later, after Carol died suddenly of hypertrophic cardiomyopathy.
"It was such a shock but the bottom line is that even after surviving breast cancer, she did not take care of herself. Complete health is a combination of a healthy mind, body and spirit, and I saw first-hand how Carol struggled with her emotions.
"As I travel the country speaking for women's health groups, I realize the need for women to take care of the total person, and laugh along the way."
Humor is always part of Jane's programs. Here's an example of how she mixes her folksy humor in with her observations on life. "Have great support; surround yourself with others who love you and have your best interest at heart. As I mention in the book, 'more important than a cup size is the proper support' in this case from a community of loving people."
"As motivational humorist, and professional singer, the message I share is about being proactive with health; especially for women to have mammograms and take care of themselves."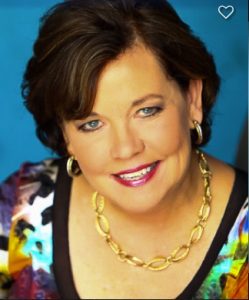 In February, Jane had the honor of addressing a conference of women sponsored by Amoena, a leader in breast care product design and manufacturing, and Julius Zorn Inc. (Juzo), a medical compression garment manufacturer. They sponsor the POWER Symposium to "Provide Opportunities for Wellness, Education and Renewal" for the women who work in medical centers, specialty boutiques or department stores that support the survivors.
Amoena's line includes lingerie, swimwear, nightwear, leisurewear, and that's what got Jane's attention. "I remember my sister lamenting the perceived loss of her femininity, and how much some pretty lingerie and attention to that part of her psyche meant to her. I know how much she struggled with this part of the journey. There were so many times I reassured and encouraged her. It's up to us to remember what makes us a woman."
That connection and respect for the audience made her a great choice for an inspirational keynote for this conference. They chose her newest keynote, Own Your Runway, a funny and insightful presentation based on proven techniques that Jane discovered along her self-improvement journey that took her from the tomato fields where she grew up in South Carolina to the runway at the Miss America Pageant and then on to a career in writing and speaking.
Our client, Holly Cline, Marketing Manager for Amoena USA Corporation, reported that Jane was a huge hit: "Within two minutes, Jane had changed the entire energy in the room. She had captured everyone's attention. They were laughing, hanging on every word and the overall mood was happy. Through her brilliant (and hilarious) storytelling and inspirational tone, Jane delivered an impactful message to our group. They felt empowered, encouraged and motivated to own their 'runway,' because Jane told them not only how but why, and that she believed they could. I highly recommend Jane to any group looking for a reminder of the importance of laughter and believing in yourself."
Jane's ability to connect with an audience is evident from her videos. She has been recognized as an outstanding speaker by her peers as well. She is a Certified Speaking Professional (CSP), and last year was inducted into the Speaker Hall of Fame. She is also a Sirius XM humorist.
If you'd like a good laugh, and a sample of her combination of singing and humor, watch the fourth video on her website profile  [click here] — the Healthy Woman song. It will have you smiling, and loving the message, as well as seeing how she connects with her audience.
It's time to book speakers for breast cancer awareness month in October. To check dates, give me a call at 503-699-5031 or email barbara@speakwellbeing.com .
Is Spring Here Yet? Not Weather as Usual
I know it's been a long winter in many parts of the country and that is certainly true for Oregon. We are very tired of rain, rain and more rain. When spring comes we usually experience some welcome warm, dry days, when everyone runs outdoors and basks in the unfamiliar sunlight. But that has been rare this year.
We did have one nice Sunday a couple of weekends ago, and Jim and I drove up the Columbia River Gorge for a short hike. We, and everyone else in Portland, it seemed — the parking lots were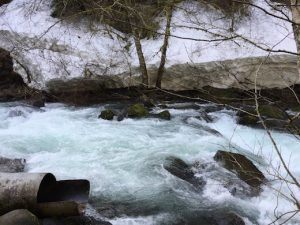 overflowing with cars parked up along the side roads for a quarter of a mile from the trailhead. There was still snow along the trail in places and huge drifts of snow overhanging the other side of the stream that rushed down from the waterfall. This is very unusual at the lower elevation where we were.
The storm damage to the trees was also evident everywhere along the trails and roadside. But it was good to get out and dream of warmer days when the trails will be dry, and the sun will warm our skins.
As always, nature delivers a welcome respite from the busy world we live in, and a big helping of beauty that nourishes my soul.
Until next time, take care of yourself, for your well being and those you love.
Yours truly,
Barbara
For Your Well Being is published bi-weekly. We bring you insider speaker reports, exclusive stories about special events around the country, meeting planner tips, and fun stuff from the worlds of health and well being. Be well and be in the know!
The Speak Well Being Group is a specialized speakers bureau, focusing on speakers for hospital-sponsored community events, healthcare organizations, nurses, conferences and women's groups. Our speakers are hand-selected. They are not only experts in their fields, they connect with their audiences while bringing them life-changing information, smiles of recognition and ultimately a sense of well being and hope.
Finding the perfect keynote speaker for your special event or conference is my personal passion, not just once, but year after year. It brings me great joy to know that your audience was delighted and moved by the speaker we selected together. I'm committed to making the process easy, pleasant and fun.