Getting the Right Fit
If you've had a hugely successful event with a speaker you absolutely loved,  you're probably asking yourself "How are we going to top this?" We hear that a lot, and we're up it!
If this is a first-time event, wouldn't you like to benefit from our years of meeting planning experience in women's conferences and events? Would guidelines, qualified choices and in-depth resources give you confidence about your decision? Organizing an event is complicated and demanding. Wouldn't you like to know what to expect and have this part of the project be easy and gratifying?
For eighteen years, we've worked only with women's conferences, hospitals, women's and healthcare groups and associations. We've hand-picked, previewed, and culled the best speakers for these events, from thousands of motivational speakers. In addition to guiding you with qualified choices, we provide decision-making tools like online video clips. We'll provide references, as well as arrange conference calls with prospective speakers. If you know who you want, we can provide this kind of background information as well as handle the details at no cost to you. (Since we are compensated by the speaker, there are no additional fees for our services.) When you've made a decision, we anticipate any issues that might arise, take care of the contracting details, secure the deposit to confirm your date, and put you in direct communication with your speaker.
---
Getting Results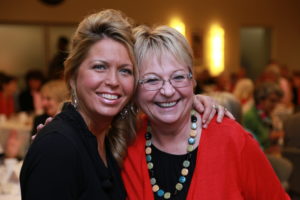 A successful event translates into credibility with your members, clients, customers, co-workers, management, and board of directors. When your attendees come back to your event year after year, when they buy your services or products, when they change their lifestyles and health habits for the better, and when they are motivated to live happier, healthier, more productive lives, we all achieve our goals!
We invest many hours getting to know each of our speakers and her specific talents, checking references, attending live performances and previewing video footage. When we research speakers specifically for you, we bring you the benefit of putting the information through our professional filters and into perspective. We also value your opinion. Our satisfied clients are one of our best resources for speaker recommendations. And once we've worked with you, we're on the lookout for the perfect speaker for your next event. As one client said, "When I talk to you, you get it."
---
Some of the Issues You Wrestle With:
The keynote speaker you choose will make or break your event.

Speaker Dr. Deborah Kern celebrating with Mission Regional Medical Center's 2016 Ladies First Luncheon committee.

Budget is always an issue.
Your institution has a reputation to safeguard and enhance in the community.
You are either overwhelmed by too many choices, or you don't know where to start.
Your time and attention have to be rationed carefully.
Your boss may be uncertain about the best choice.
Searching the internet seems like a good idea but it's time-consuming, and you're still at the mercy of the author of the site as well as the search engine's choices.
You're Unsure Who to Trust
Worst of all, this decision is edgy. You won't know for sure until the actual event is completed, if you made the right choice, and then, since this is an annual event, you have to start all over again.
What You Need Most Right Now:
What you may need most right now is to find the right speaker with minimum time and effort — and to feel confident that you've made the right decision. Ideally, you would work with one dependable resource who will make it easy for you, who takes the time to know you and the many people you have to please, who is sensitive to your budget parameters, who understands your community and who will make you and your organization shine. You need relief from job pressure and the angst of making a good decision. You deserve to feel good — and excited — about your decision. What if you could get all that – at no extra cost to you?
You Are Most Likely To Be Successful Working With The Speak Well Being Group If –
You want a speaker who is motivational in nature, while delivering useful information – informing, educating, entertaining and energizing your audience.
You prefer working with professionals – having a tested contract, details nailed down, and certainty about what you are getting for your money.
You want to enjoy the process and meet exceptional people.
You like speakers who are team players and go above and beyond your expectations.
You do what it takes to deliver a top quality program or conference for your organization. You take great pride in the end product.
Your speaker budget for a keynote is at least $2,000.
You prefer direct communication with the speaker you hire, rather than having to go through a third party.