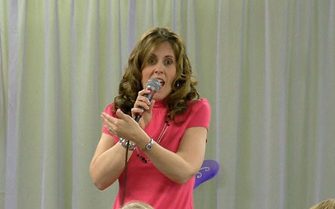 May 25, 2017, Vol.15, Issue 5
Are you participating in The Stress Club?
Our speaker, Tami West, PhD, observed that women appear to be endorsing stress, i.e. they boast about the stress (read busy-ness) in their lives. They reinforce it with other women, and they don't give themselves or each other a break.
Tami thought there must be another way — a way to help women get out from under the social pressure, take their power back, and get on with living their own lives. At her husband's urging, she went back to school, did research, and wrote her dissertation for her PhD based on what she learned.
Now she's sharing her revelations from the stage, and in her new book, The Stress Club.
Breaking Free from the Stress Club
Tami says her awakening to the topic of women and stress started in 2007 when she was finishing up a week of seminars for women. Closing the day (and week), she commented to the group:
"Tonight I'm flying home. Tomorrow I'm going to sleep in, get a massage and read a book. It's important for me to take time for myself to manage the stressors in my life."
The responses from audience members surprised her. "The women seemed almost incensed," she said,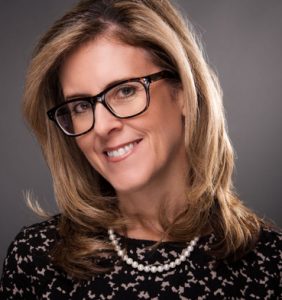 "saying things like, 'Wow — must be nice!' 'Lucky you!' 'Wish I could do that!' 'That's not a very good use of your time.'"
"What's up with that?" she thought. "I was not trying to elicit an impassioned response; I was simply making some closing remarks that I thought would leave everyone in a good frame of mind."
Over the years, she heard even more similar phrases during her seminars. "Then it hit me," she said. "Stress held value for these women. They were feeding off of it. They were getting self-worth from being stressed-out. In a strange sort of way, they were turning a negative into a positive, i.e., 'I'm stressed out and that makes me important.'"

She identified three factors that resulted in the phenomenon that she named, "The Stress Club."
First, women join the Stress Club when they bond over stress with their female friends.
Second, the field of Discursive Psychology explains that our talk tells others who we are — this was a key point in her research as Tami noticed the language women were using in regard to their stress.
Third, women's language is relational — they want to be alike.
"For women, the risk of not being stressed might be equal to or greater than that of being stressed," she states. "It's risky not to be stressed as you'll be left out of the club."
What kind of risk? Society dictates the normality of stress in our busy lives. Being left out of the club is hurtful. Being judged by those in the club also stings. The result is self-defeating in that these risks prevent women from making positive self-care choices and from talking about them when they do.
The solutions, Tami says, are not as simple as stress management. It's one thing to know that sleep, relaxation, getting help, eating right, exercising, taking time for ourselves, changing our thoughts, etc.,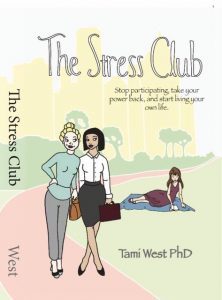 etc., etc. are stress relievers. But if we live in a culture where we feel left out, where we might not be understood by other women, even demeaned by them if we admitted to taking care of ourselves, why would we even attempt self-care or dare to speak of it with other women who live and often wallow in stress?
While Tami believes in and endorses the importance of self-care or de-stressing techniques, she doesn't teach them. Her mission is different. "What I am here to do," she says, "is to guide you, not in stress management, but in identity management (a term she coined).
"I'm here to encourage you to pay attention to that stress deodorant commercial and then decide if you buy into that message. I'm here to encourage you to be aware of the language you're using, how you're using it, and to change what you'd like to change. Then you'll be able to choose between participating in the club and participating in your own life — even during times when life is challenging!"
When Tami first told me about her innovative approach to the topic of stress, I was intrigued. By popular demand from their stressed-out members, clients frequently ask for a speaker on stress relief. Tami's approach gives me a better understanding of why it is so pervasive in our culture, along with solutions that go beyond the usual hot baths and girlfriend time — nice as those may be.
As Tami reveals in The Stress Club, and her first book Life Without the Monsters, she is intimately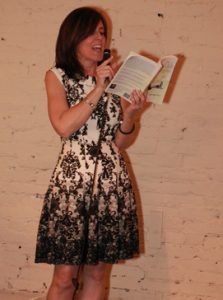 acquainted with life's stressors. Once upon a time (1995), plagued by anxiety disorder, panic disorder, PTSD, and depression, she checked herself into a mental hospital.
"That mental hospital stay was one of the worst experiences of my life," she said. "I had hit bottom. And my breakdown wasn't even caused by a tragedy. All of it was due to circumstances of my daily life. I never want to live that way again. Sure life can be challenging, but I want to help you not be an unknowing member of the Stress Club. As much as possible, I'd like to keep you from the emotions spiral, the bottomless pit of doom. That's my passion, my mission on this planet."
For a sample of her engaging, forthright style, watch her demo video here. To learn more about the Stress Club and Tami's exit strategies, and how to bring her lively presentation to your community, give me a call at 503-699-5031, or email me at barbara@speakwellbeing.com .
Wildflower Magic in the Gorge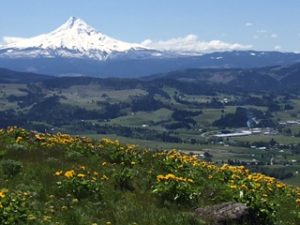 Beauty soothes my body and soul, and I'm not shy about taking weekend time to engulf in it and recharge. One of the places I find it in abundance is in the Columbia River Gorge, especially in April/May, when wildflowers explode across the meadows.
My husband and I took three day trips this month, immersing ourselves in the bright yellow sunny-ness of balsamroot(shown here), lacy purple lupine and the aptly named orange paintbrush. All of this against the backdrop of Mt. Hood, and the Columbia River itself. And it was even sunny! That was great for a change! Enjoy the view!
Until next time, take care of yourself, for your well being and those you love.
Yours truly,
Barbara
For Your Well Being is published bi-weekly. We bring you insider speaker reports, exclusive stories about special events around the country, meeting planner tips, and fun stuff from the worlds of health and well being. Be well and be in the know!
The Speak Well Being Group is a specialized speakers bureau, focusing on speakers for hospital-sponsored community events, healthcare organizations, nurses, conferences and women's groups. Our speakers are hand-selected. They are not only experts in their fields, they connect with their audiences while bringing them life-changing information, smiles of recognition and ultimately a sense of well being and hope.
Finding the perfect keynote speaker for your special event or conference is my personal passion, not just once, but year after year. It brings me great joy to know that your audience was delighted and moved by the speaker we selected together. I'm committed to making the process easy, pleasant and fun.