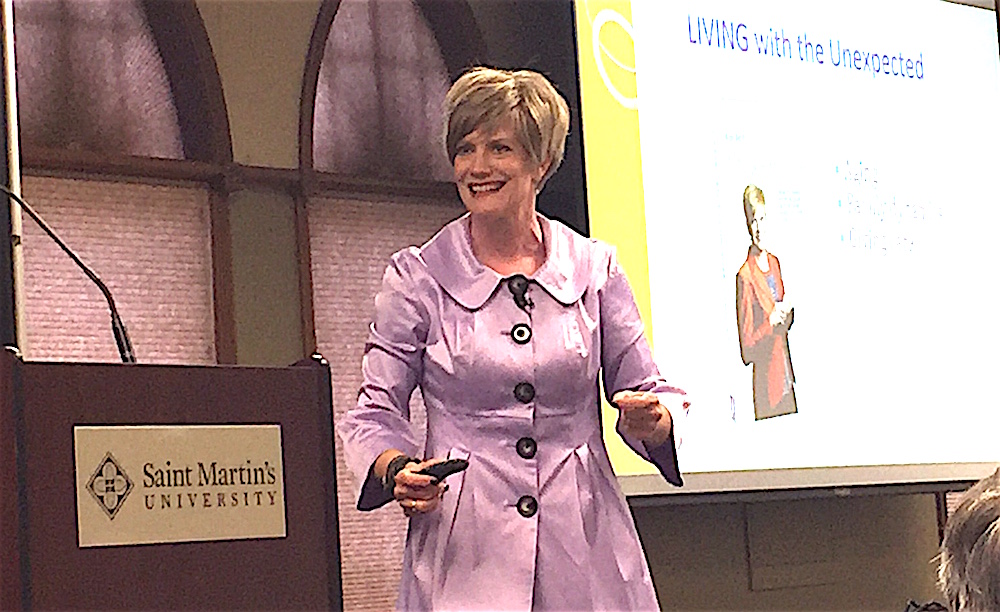 April 27, 2017
Vol.15, Issue 4
It wasn't my everyday speaker inquiry — Nicky Upson, Communication Specialist at Providence Health and Services, SW Washington, was asking for a speaker on Advance Directives for an event celebrating National Healthcare Decisions Day.
I was momentarily puzzled; I'd never been asked for that topic.
My next thought was, "Okay, who would know about that? I immediately thought of my caregiving speakers. The first one to come to find was Kari Berit, author of The Unexpected Caregiver. When I called her up to ask, she told me she talks about that all the time. In fact, when I went back and looked at her video on my website, I saw that she even mentions Advance Directives in the first minute!
She was the perfect speaker for this event, giving lots of life, practical tips and even humor to a tough topic, really bringing it alive and making it relevant to an entire audience. My husband and I attended the event in Lacey, Washington last week. Here's our report.
Kari Berit
Having Caring Conversations
Let's start with a definition:  An Advance Directive is a document in which a person makes provision for health care decisions in the event that, in the future, he/she becomes unable to make those decisions for her/himself. Questions come up about how far hospital staff or medical personnel should go to keep one alive – from breathing apparatus to feeding tubes to prolonging life even after all conscious responses have ceased – and the advance directive tells your loved ones as well as medical personnel how you would answer them for yourself.
"Seventy-five percent of people are unable to make some or all decisions at the end of their lives," Kari told the crowd, "so it's important for your loved ones to know your wishes."
She was also quick to tell us that while the actual decisions you make are important, just having the conversation is what really matters. "This is about families, not death," she said. "People make several crucial mistakes when not talking about these issues. For one thing, we think our children know what we want, and that's not necessarily true — you may find that out when you have the conversation."
"For another, although we forget that things can change over the years, and that forms can get lost, we tend to remember what was discussed in this conversation."
"It's important," Kari told us, "because without it, there's a conspiracy of silence. With it, you get to be your own advocate."
Fortified with her own experiences with illnesses in her own family and circle of friends, Kari had plenty of stories to share with the audience that brought the topic to life.
As an example she shared about how she and her husband recently sat down with his parents and read aloud each of the points of their Advance Healthcare Directive. "It was probably one of the most important and treasured conversations I've had with my in-laws," she confided.
"It's not necessarily an easy process," she continued. "But it is profoundly rewarding.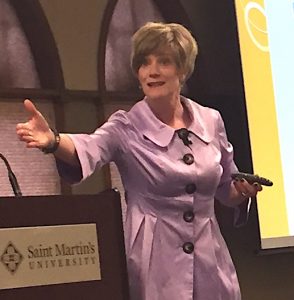 If we hadn't read through my in-laws' wishes, we would have missed several crucial details. Among these is that they do not want Hospice to come into their home. They would prefer to move into a Hospice facility. "
"That was a surprise. John and I thought for sure they would want to die in their home, but they have their reasons for not wanting this and now their wishes are quite clear. We know very specifically what care they want in the later stages of their lives, and we know their reasoning for those wishes. That conversation brought us closer together as a family."
Yes, when filling out an advance healthcare directive we're talking about end of life. But we're also really looking at how we want to be cared for while we're still living.
She also cautioned against forcing a discussion of the topic if anyone in the family objects. It's about being SANE, after all, and that includes No Guilt, even for not wanting to talk, or feeling shy about this (see below.) "If a parent doesn't want to talk about it the first time the subject is broached, let it go, and then bring it up again at a later time.
"Sometimes it works out that the topic is brought up later at an adult facility care facility or class, and that's great however it happens. And while you're waiting, fill out your own directive," she said. "You may just gain rich insights into how you really want to live. How do you want to be cared for?  You get to paint a picture, to create the scenario of what you want."
Kari's career has given her certainty about what she says and how she says it. She has accumulated over 25 years of experience in the areas of eldercare, senior housing, family dynamics, radio show hosting, and adult education, as well as several years spent as a court-appointed guardian for an at-risk elderly man. She's also been a family caregiver to her mother, grandmother, and sister.
From all that experience she has distilled a formula to govern a positive discussion around the topic, which can be touchy if you have no ground rules. She recommends specifically the whole family agreeing to SANE ground rules: staying SANE as you discuss it, and that should give everyone confidence if you become an unexpected caregiver.
SANE, of course is an acronym for the kind of behavior toward one another that makes what could be a fearful experience into one that is deep and rewarding. The letters stand for the following four feelings that must be protected and honored:
Supported — You must feel free to ask for help, and if asked you must offer it freely and gladly.
Appreciated — Feeling appreciated comes from within, and you must show the others that you appreciate their contributions and even just their willingness to participate.
Not Guilty — Adopting a mantra of kindness instead; no blame, no guilt and no shame for admitting that you want any specific thing or feel a certain way; an atmosphere of no guilt, no shame creates safety, the freedom to be true to your own needs.
Energized — Finding your own creative outlets because the whole experience will leave you feeling good, cared for, and eager to live.
When she was finished with her prepared remarks, she was joined on stage by Gregg VandeKieft, MD, Regional Director for Palliative Care, and Kevin Haughton, MD, who made up a panel that fielded intelligent questions from an audience that by now was very engaged.
Providence had passed out Advance Directive forms before the event. So when Kari was finished the pens came out, and people were facing their own issues as they filled out their forms. Providence even had notaries in the back of the room to complete the process.
Remember, Kari concluded, "An advance directive is a compass not a road map. That's why it's so important to have the conversation and not just fill in a form and file it somewhere. After all, it may never be found by the people who should know what's in it. But if they are part of the conversation, they'll remember it."
Hearing Kari speak engaged me in a way I hadn't expected. With her combination of humor, examples from her own family, and clear organization of her material, she had the attention and appreciation of everyone in the room. When they got a chance to apply her lessons in their own lives, they were ready to go – and to take the lessons home to share with their parents, children and grandchildren.
If you have any space in your annual schedule, you may want to learn more about Kari's programs and expertise. Click here to visit her profile on our website, where you'll find a video preview, or give me a call at 503-699-5031 or email barbara@speakwellbeing.com.
Taking Care of Business
So heads up: the last time I filled out an Advance Directive, was when I had my knees replaced in 2008, and we didn't have a daughter living within a half a mile. Time for a review of my own.
As Kari pointed out in her program, this is the opportunity to have a conversation about life.  Beyond questions about CPR, feeding tubes and life support machines, it's a time to talk about what you love and how you would like your surroundings.
Setting another good example from her own life, Kari shared that she'd want a dog in bed with her and stacks of books by her side — whether she could read them or not. In another example, her husband's parents shared their wishes to be moved to a Hospice facility, rather than die in their own home – when Kari and her husband had thought opposite.
These are profound differences from what loved ones had assumed – and would have done.  When I have the conversation, I get to paint the picture, and create a scenario for what I want – Supported, Appreciated, Not Guilty, and Energized.
Until next time, start that conversation with your loved ones, and take care of yourself, for your well being and those you love.
Yours truly,
Barbara
For Your Well Being is published bi-weekly. We bring you insider speaker reports, exclusive stories about special events around the country, meeting planner tips, and fun stuff from the worlds of health and well being. Be well and be in the know!
The Speak Well Being Group is a specialized speakers bureau, focusing on speakers for hospital-sponsored community events, healthcare organizations, nurses, conferences and women's groups. Our speakers are hand-selected. They are not only experts in their fields, they connect with their audiences while bringing them life-changing information, smiles of recognition and ultimately a sense of well being and hope.
Finding the perfect keynote speaker for your special event or conference is my personal passion, not just once, but year after year. It brings me great joy to know that your audience was delighted and moved by the speaker we selected together. I'm committed to making the process easy, pleasant and fun.