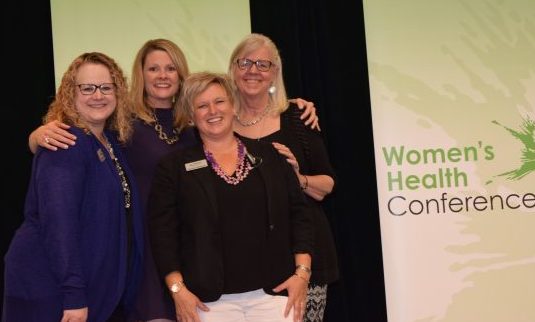 Oct. 19, 2017
Vol.15, Issue 8
Since I last wrote, I've been on vacation in Michigan for almost two weeks, and then on a field trip to Bismarck, ND, where long-time client Reach Partners hosted their annual Women's Health Conference. I've worked with them on their women's health conferences in Fargo and Bismarck for fifteen years.
It was a very satisfying and enlightening experience to sit in the audience and experience the energy of 500 women around me as they responded to the speakers, exhibitors, and each other.
In this issue, I'm sharing a few highlights from keynote speakers at the conference, Angela Gaffney and Glennon Doyle. In my next issue, I'll share a meeting planner tip implemented at this conference (and designed by Angela) that solves that pesky problem of keeping everybody happy about lunch while honoring food restrictions — vegan, gluten free, dairy free, etc.
If you recognized Glennon Doyle's name, you know her as the author of the #1 NY Times best-seller Love Warrior (which incidentally just came out in paperback), Momastery blogger, and from Oprah's Super Soul Sunday Show (You may know that the book was also an Oprah Pick).
An Innovative Day:
Health and Sisterhood
Last year in this blog I wrote about health and wellness speaker Angela Gaffney and her new book, Feel Good, Look Good, for Life. You may want to refer to that blog and to her page on our website for her compelling story of recovery from her life-threatening illness.
Angela's theme of "Feel Good, Look Good for Life," provided an innovative container for the entire conference. Angela did both the opening and the closing keynotes, as well a short commentary about the luncheon menu (more on that in our next issue).
A peculiar problem came up as we were putting the program together: Glennon faced limited flight time availability. "To schedule Glennon's program in the middle of the day we had to think outside the box, and the result was both creative and powerful," Anita Hoffarth, president of Reach Partners, the meeting planning company, said. "As things turned out, it was like a yummy sandwich with Angela providing the health and wellness piece at both ends of the day and Glennon providing the personal development piece in the middle."
"Glennon also provided the star power the planning committee wanted to bring into the mix this year," Anita said, "and Barbara was great at facilitating that piece, as well as working with us to maximize Angela's talents."
Angela Gaffney
One Simple Rule: What Will This Provide Me?
Angela's core message revolves around One Simple Rule, whether it's about food or how you spend your time. Always ask the question, she says, "What will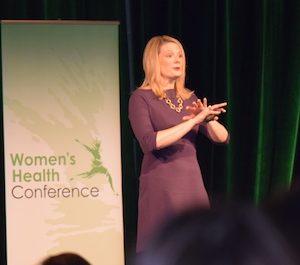 this provide me?" Every decision you make either feeds you or not. This applies to anything from selecting an entrée off a menu to deciding whether to accept a job promotion.
"It's not about perfection," Angela said. "It's about showing up perfectly as you.
"The goal is creating life-long habits that lead to life-long health and happiness. Instead of dieting for a certain period of time, or exercising consistently for a month and then falling off track, you can begin creating life-long habits that will help you achieve your goals and live the life you desire just by asking yourself this question — and being totally honest with yourself in answering. Asking the question allows you to pause and consider how your choice will impact your life in a positive or negative manner," she told the crowd.
"Even asking yourself this question with something as simple as choosing your lunch entrée can pay off in the long run.  Your body is going to feel much better eating a big salad topped with wild caught salmon versus eating a burger and fries. Once in a while though, it just feels fantastic to choose the burger and, because you've answered the questions ahead of time, you'll be making a conscious decision to enjoy every juicy bite of the burger and not feel an ounce of guilt for the pleasure.
"Health doesn't just happen, it takes consistent and conscious effort to achieve it and maintain it,"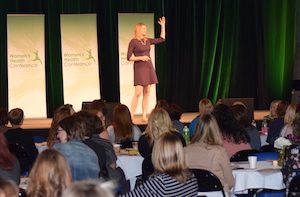 she continued.  "Your choices in life will support and encourage you or cause you to veer off course. Make great decisions for yourself 95% of the time and once in a while, let loose and enjoy a burger; no guilt necessary."
Angela emphatically recommends the importance of follow-through. "Learning new ways of thinking at a conference is great," she said, "but it's just information unless you implement it." Of course, that's easier said than done.
With all of her experience with her own journey back to health, and as a Certified Health Coach, she's created the Feel Good, Look Good Master Class. This comprehensive coaching course is filled with high value content, videos, and handouts to support you in creating the healthy, vibrant life you deserve!
Angela is extending a special pilot program pricing of $97 to our readers. Normally priced at $479, the class is a 20 week program that will help you explore how your choices at the table and in life impact your health and happiness.
Take advantage of this special pricing of $97 now. To join, go here and use code "BCGift" at checkout.
Glennon Doyle:
Being Sistered and Sistering Others
Glennon does her program interview-style, and talks just like she writes —candidly, intelligently, and with a sense of irony and humor. She's open, forthright, and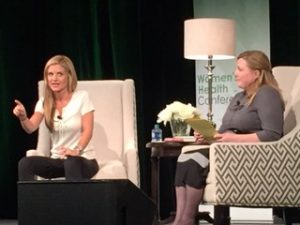 genuine — this was also evident during her meet and greet time with guests. While lengthy, her answers to the interviewer's questions were so engaging that it felt like she was relating to every woman in the audience. Here are a few of my most memorable nuggets:
"Hot loneliness — easy buttons [i.e. addictions] take us out of the game."
"You don't get to numb out the painful parts of life to experience the beautiful parts of life."
"We have to stop asking people for directions to places they've never been."
"Women need to be fierce-minded and tender-hearted."
"Sister each other, because sistering is the best part of life."
That last nugget is the one I want to expand on.
At the end of her program, she described what "sistering" is, what it looks like, what it feels like, and why it's so important. That felt like an important part of the camaraderie and sisterhood I felt in the room. Despite being a cavernous, convention center room, the spirit of intimacy and sisterhood among the women present was very evident. I felt it from the time I entered the center to register.
The story about sisterhood that Glennon shared starts with carpenters.
Carpenters know that the building block of a structure is the joist. A joist is a special, strong beam that supports a greater structure. Sometimes a joist has to carry such a heavy load that it starts to weaken. When that happens, the carpenter connects another board to the left of the weakening board. If that doesn't strengthen it enough, she connects another board to the right and, with that extra support, the joist is strong enough to carry almost anything.
"Okay, everyone, guess what this this process of joist strengthening is called? Sistering!" she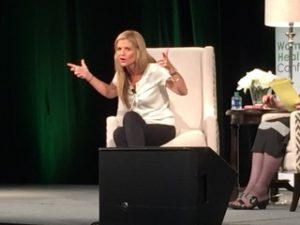 declared to the crowd. They got it! "You can't build a strong, beautiful, complicated structure – whether it's a building or a life – without Sistering."
"Women are special, strong people who hold up the world but sometimes life's load gets too hard and heavy for them to carry alone. I think the hard is purposeful: so that we'll need our sisters. If everything feels too heavy right now, it might mean that you need a sister to your left and a sister to your right to help steady you and strengthen you and hold you together. It might be time for a sister joist.
"My life is just a dance between being sistered and sistering others," she told us. "And my favorite thing about being part of a sister joist is that you don't have to say the right thing, you just have to stand there and be strong. Sistering: It's the best part of life because when I'm weak, then I'm strong.
"Find your sister joists," she said. "Be a sister joist."
Until next time, take care of yourself and your sisters (and brothers) for your well being and those you love.
Yours truly,
Barbara
For Your Well Being is published with the intention of bringing you insider speaker reports, exclusive stories about special events around the country, meeting planner tips, and fun stuff from the worlds of health and well being. Be well and be in the know!
The Speak Well Being Group is a specialized speakers bureau, focusing on speakers for hospital-sponsored community events, healthcare organizations, nurses, conferences and women's groups. Our speakers are hand-selected. They are not only experts in their fields, they connect with their audiences while bringing them life-changing information, smiles of recognition and ultimately a sense of well being and hope.
Finding the perfect keynote speaker for your special event or conference is my personal passion, not just once, but year after year. It brings me great joy to know that your audience was delighted and moved by the speaker we selected together. I'm committed to making the process easy, pleasant and fun.