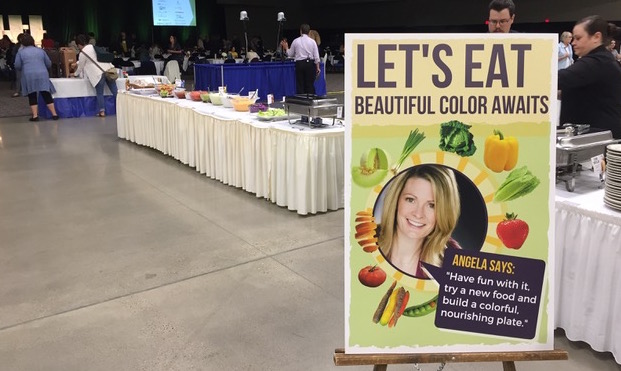 Nov. 17, 2017,  Vol.15, Issue 9
Starting next week 'tis the season of food, food, and more food. And these days, that means more people with food sensitivities in the mix. A few weeks ago, I found myself creating a family dinner that included a mix of diners who were gluten-free, vegan and nut-free (allergic). Gluten-free I'm accustomed to substitutions, etc., as I eat mostly gluten-free. But for the rest I had to get creative. For this dinner, I ended up with four casserole dishes down the center of the table. Chicken, Mushroom & Wild Rice Casserole with sliced almond topping — and then one without the nuts — and Roasted Red Peppers Stuffed with Kale and Rice (and parmesan cheese in the recipe) – and then another version with vegan parmesan cheese.
Now, I bring this up because I know that when it comes to menu planning, meeting planners are dealing with food sensitivities as well as the appetites of their attendees. And we all know how high the food ranks on the list of needs to please at a conference or meeting! At the Bismarck Women's Health Conference that I attended in September and wrote about in my last post, our speaker, Angela Gaffney supplied our client with a menu that offered a simple, comprehensive solution — Mexican Brunch! Here are the details.
Mexican Brunch:
Choices, Choices, Choices
Catering to Every Attendee
At the beginning of each buffet line — there were three lines to accommodate 500 people — beautiful posters greeted everyone with the message, "Let's Eat – Beautiful color awaits. Have fun with it, try a new food and build a colorful, nourishing plate."
Color was absolutely the theme of this gorgeous spread of appetizing food with something for everyone, along with the encouragement to try something new.
To start, there were flour tortillas (organic corn tortillas are another option, but they tend to be small, and limiting when there are so many glorious options to fill them). Next, brown rice, which is another gluten free option and can be used to build a breakfast "bowl" instead of a burrito.
Then the array of filling and toppings: Black beans, sautéed vegetables (onions, peppers, mushrooms), romaine lettuce (chopped), fresh salsa, guacamole, red onion (diced and used as a topper), fresh cilantro, fresh tomato (chopped), sour cream, shredded cheese, chopped red cabbage, hot sauce, fresh lime wedges, fresh jicama slices tossed with lemon juice and a pinch of sea salt, fresh fruit salad, and leafy salad greens as a side.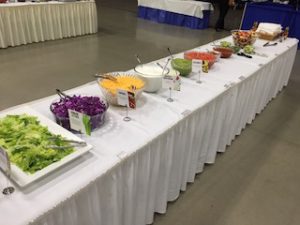 It was great fun to build my beautiful plate. I didn't even realize it was meatless until I sat down to eat.
Can you see by the ingredients how those who were gluten free or vegan or dairy-free or even raw food eaters could make healthy choices that fit their lifestyles? And as you read through those ingredients did your mind register how colorful the array of food was?
Oh, and for dessert, how about Decadent Flourless Chocolate Cake (Gluten, Grain and Yeast Free)? That was a big hit! It can be served with powdered sugar sprinkle, fresh berries, mint and fresh whipped cream. For meetings, Angela recommends having a bowl of fresh berries near the whipped cream, so for dessert people who may not enjoy chocolate cake could still have a bowl of fresh berries (with whipped cream if desired).
Toward the end of the brunch, Angela took the stage to share a few comments about the food and ask the audience about their experience. Her question about the secret ingredient in the flourless cake had the audience stumped. "It's garbanzo beans!" she revealed.
"I bring this cake to every holiday party and fun event and people love it!" Angela said. "The key is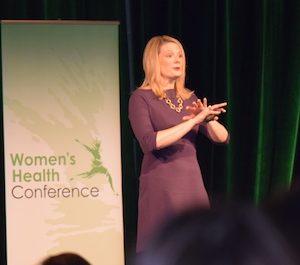 making sure that the bean/egg mixture is blended until it's a creamy, smooth texture. You should never see any pieces of bean in the mix."
The only other ingredients are dark chocolate (at least 70% cacao content), eggs, organic coconut palm sugar, baking powder, and confectioner's sugar for dusting. The recipe can be found in her book, Feel Good, Look Good for Life.
Overheard in the hallway: "I like the way Angela framed healthy eating to 'eat more colorful.' It makes it feel easier to eat better."
And another comment: "The food was healthy without falling into the trap of too small a portion."
Meeting planner Rachel Asleson of Reach Partners, said that another benefit was that it was not at all difficult for the caterer to implement. "Angela worked closely with us and the catering company to ensure that everything ran smoothly, aligned with our budget and provided every attendee an incredible experience."
Interested in learning more? Give me a call at 503-699-5031 or email barbara@speakwellbeing.com .
Choosing and Savoring Favorites
Yes, it can be all about the food. When I was anticipating my trip back to Michigan this summer, I had two food favorites on my mind — Topopo salads at El Azteco in East Lansing, and walleye anywhere I could find it on the menu. I managed to have both three times in two weeks, and enjoyed every single bite.
I've never seen anything at any other Mexican restaurant like the Topopo salad. It's like Nachos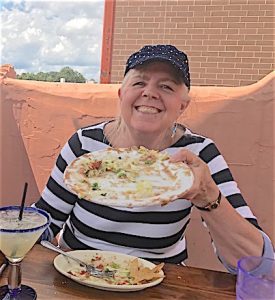 topped with a huge mound of shredded lettuce and peas and chicken in a special dressing. I have recently learned, however, that there's a recipe for it on the internet now (Click here to see it.), and when the craving rolls around again, I just might try to make one. Of course, I'll have to make margaritas to go with it, too, and I'm not sure I can replicate El Azteco's fancy glasses.
And while we have plenty of fresh wild salmon here in the Northwest, walleye on a menu is a rare find. Since I retired my fishing gear long ago, I may have to wait for my next trip back to the Midwest to feast on walleye again.
Do you have a favorite food you'd travel cross country or across oceans to savor again?
Until next time, Bon Appetit! Take care of yourself for your well being and those you love.
Yours truly,
Barbara
For Your Well Being is published with the intention of bringing you insider speaker reports, exclusive stories about special events around the country, meeting planner tips, and fun stuff from the worlds of health and well being. Be well and be in the know!
The Speak Well Being Group is a specialized speakers bureau, focusing on speakers for hospital-sponsored community events, healthcare organizations, nurses, conferences and women's groups. Our speakers are hand-selected. They are not only experts in their fields, they connect with their audiences while bringing them life-changing information, smiles of recognition and ultimately a sense of well being and hope.
Finding the perfect keynote speaker for your special event or conference is my personal passion, not just once, but year after year. It brings me great joy to know that your audience was delighted and moved by the speaker we selected together. I'm committed to making the process easy, pleasant and fun.