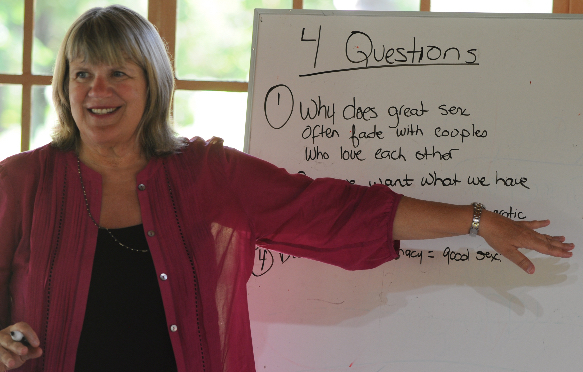 Feb. 13, 2014, Vol. 12, Issue 3
February — it's the month for matters of the heart — both the beating physical entity and the emotional heart. As I looked back in my archives, I noticed that over the years I've written lots about heart health and heart health speakers, but little about the emotional heart. It's time.
When I read our speaker, Linda Carroll's e-news this week, I knew immediately that I
wanted to share with you her message about love, for it spoke so honestly to me (In fact, it's awfully close to home). And that's just the kind of speaker she is. She knows her topic intimately, and I think that's why she's able to approach it so lightly — and with humor — while delivering deeply meaningful keynotes. If you're having a ladies night out with a medical doctor opening with heart health information, Linda's keynote could balance it perfectly. She would complete a meaningful program by talking about matters of the emotional heart. After all, it is all connected.
Linda's new book, Love Cycles: Mastering the Five Essential Stages of Love, will be released Sept. 8, 2014. I've heard her introduce its contents in her workshop, and I've read previews. I can't wait to get my hands on it.

What's Love Got to Do with It?
By Linda Carroll, MS
As we near Valentine's Day, aside from the hype and marketing, I find it is a good time to reflect on love. Recently I read an article entitled, "Three Ways to Know You Have Found The One," which included "always having warm loving feelings, worrying about your partners well-being all the time, and thinking only positive thoughts." No wonder we have such trouble with real relationships when our model of love is based on "The Merge," a short kind of "la-la land love." It's fun to be in, but that is not the love that sustains us as life moves us through curves, peaks and valleys over time.
I certainly don't feel warm and loving towards my husband all the time, in fact there are moments, hours and even days when I feel annoyed and judgmental. Being a person with a very high degree of anxiety, I have to tell myself he is still alive when he is five minutes late or stop myself from fretting when he goes off alone for a 4 hour ride on his mountain bike. And sometimes when I see yet another pile of dishes he has not put away, my thoughts are so unpleasant that I would not share them with my best friend.
In Love Cycles, I make a very clear distinction between "falling in love" and "loving."
"Being in love" did not even make it into the book. To fall in love is effortless and requires little true heart, growth, or work. I did it when I was 11. How hard can it be? But to love, this is a whole other matter. Here are two questions for you to consider:
How do I know I love? (not that I "am in love") and
How do I know I am loved?
For me, the answers have much less to do with feelings and more to do with actions and willingness. For example, my husband of 25 years brings me a latte every morning. Some of those mornings he has a warm smile on his face, and other mornings he is frowning because I have forgotten (yet again) to hang up the keys. He has been on a crazy search to find them, making him late to work. Yet, every morning, there is that latte. I know his favorite meals and when he has an hour commute home from work; I always try to have a favorite ready for him. Sometimes I am so happy to do it, other days I am harboring one grudge or another, but I still care he comes home to a good meal.
Beyond food, we each know that whatever we are feeling for the other, when it matters, we show up. We have one another's back, however sweet the moment or how high the annoyance meter is that day. It is not about what we feel, it is about the practice of caring, of holding one another's life, dreams and vulnerabilities with the same care we hold our own.
What about you? What are the "actions" that go beyond those mushy feelings or dreamy thoughts? What is it to really love another? It certainly is not something that we do easily or quickly. The poet Rilke understood this when he said, "For one human being to love another human being: that is perhaps the most difficult task that has been given to us, the ultimate, the final problem and proof, the work for which all other work is merely preparation."
Snow Surprise
Well, two weeks ago, I was smugly planting primroses in my flower boxes —
one of the things I love about Oregon's "mild" climate — while listening to freezing weather reports from around the country. It may be gray this time of year, but primroses and pansies were peeking out from trays outside the grocery stores, and somehow a dozen of them made their way home with me.
That was before the snow hit last Thursday. It doesn't take much snow to slow things down in Portland, Oregon. The last time we had a snow event was in 2008.  And this one did turn into several inches of powder, drifting, blowing, cold and beautiful – and then into freezing rain and ice on Sunday, which melted to slush Monday.
Luckily, the power stayed on, so were comfy and cozy inside, and I entertained myself
baking and decorating Valentine cookies.  I love doing this stained glass version where hard candy melts in the middle, and then I frost around it. If you'd like the recipe, email me and I'll send it to you.
And I'd like to end with this Valentine thought — a sage commentary from our humorous speaker, Gina Barreca, that showed up in my newspaper this morning:
"Once we hit 40, women only have about four taste buds left; one for vodka, one for wine, one for cheese and one for chocolate."
Until next time, take care of yourself for your well being and those you love.
Yours truly,
Barbara
For Your Well Being is published bi-weekly. We bring you insider speaker reports, exclusive stories about special events around the country, meeting planner tips, and fun stuff from the worlds of health and well being. Be well and be in the know!
The Speak Well Being Group is a specialized speakers bureau, focusing on speakers for hospital-sponsored community events, healthcare organizations, nurses, conferences and women's groups. Our speakers are hand-selected. They are not only experts in their fields, they connect with their audiences while bringing them life-changing information, smiles of recognition and ultimately a sense of well being and hope.
Finding the perfect keynote speaker for your special event or conference is my personal passion, not just once, but year after year. It brings me great joy to know that your audience was delighted and moved by the speaker we selected together. I'm committed to making the process easy, pleasant and fun.