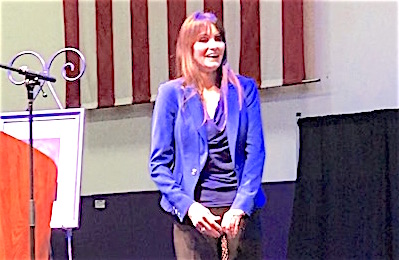 July 31, 2018, Vol.16, Issue 4
As you may know, I often call myself a "motivational speaker junkie."  I love finding great speakers for my clients, and I get personal benefits as well. When I find myself in a dark place, all I have to do to pull me out of it, is look up one of my speakers who has overcome a life-threatening illness and moved beyond it. It's a sure way to put things in perspective.
One of the most striking examples is Kate Adamson, who not only survived a massive brain-stem stroke, and Locked-In Syndrome, but has come back from it in a big way. Her book, Paralyzed but Not Powerless, is riveting. As a speaker, she makes a great connection with her audience, capturing them with her incredible story, adding doses of humor to lighten things up.
I wrote her story in a previous blog.  Today, however, I have an update about Kate. It's a great example of the motivational speaker motivating herself.
Motivating Herself to the Next Level
Kate Adamson went from struggling through locked in syndrome – total paralysis with a one-in-a-million chance of survival – to earning a Master's in Social Work (MSW).
On June 29, 1995, Kate's life changed forever. Overnight,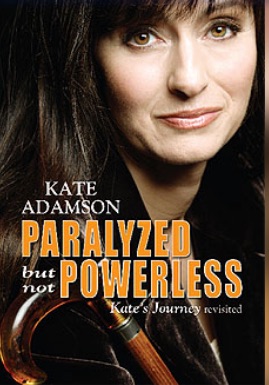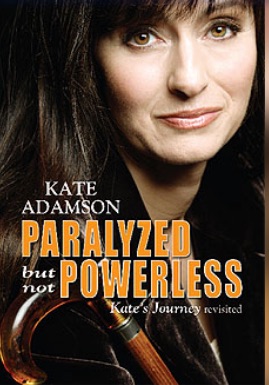 she went from being a physically fit, totally healthy young wife and mother of two adorable toddlers, to total and complete paralysis with less than one in a million odds to survive. The condition is called "Locked-In Syndrome."
"My thoughts were my only companions as I lay in the hospital on life support, unable to move, to breathe on my own, or communicate with the outside world." she said. "I hurt everywhere but I could move nowhere. I was trapped in my body. It was as if I was sealed in a glass coffin. I could think and I could blink – that was it. But it was enough to start. If I could blink then I could communicate. And I did. With determination and effort, assisted by an army of helpers with whom I communicated with a form of Morse code, my journey of recovery began."
Eventually she was  transferred from the Intensive Care Unit to acute rehabilitation. There, the hard work began. In order to regain any function, a lot of very hard work lay ahead for her. She had to learn everything. How to crawl, walk, swallow, and speak again. She had to relearn how to write, to eat, and to dress. Even after being discharged from the inpatient program, she continued with ongoing physical therapy.
"This was not about me," Kate says, "It could never be just about me. I received the inspiration to keep going from my determination to help others in similar circumstances. My own recovery was fueled with the idea of helping people reclaim their lives. I am so thankful for the social workers who guided and supported me through this time in my life. Their example planted the seed that eventually led to my seeking a higher education".
Over the years many media outlets, both broadcast and print, shared her story. The publicity and speaking engagements allowed her to offer hope and encouragement to thousands of victims of paralysis and their families – even the rehabilitation and medical professionals were and are inspired by her story of determination and focus.
And so she was inspired to go for her Master's in Social Work (MSW). Why that?  Not only would the credentials help in her profession, she needed a new level of skill to help patients and their families on a deeper, more professional level. She returned to school in 2011, graduated with honors with a bachelor's degree in human services. Then she applied to graduate school to further enhance her skills.
School did not come easily to her due to residual effects of her catastrophic stroke. Kate had to apply herself with the same focus, discipline and determination that it took for her to recover from her profound paralysis.
When she felt like giving up, she simply remembered how she regained one simple function at a time during those dark, lonely, and uncertain days when she lay helpless. One class. One semester. Another class. Another semester.  Like swimming the channel, one stroke at a time moved her ever closer to her goal of obtaining a MSW.
Once unable even to breathe on her own, and needing every kind of assistance, she now desired to give back to others who are suffering, hurting, and in need of help.
Is she building a practice that she couldn't have built before?
Kate says, "As a social worker, my personal experience of surviving the stroke enhances my empathy and understanding as I help individuals and families struggling with many of the same challenges. It also brings another level of expertise to my speaking message as I customize my message to every event, every conference, and every interview. It is so important that we all reach out and help make a difference in the life of another."
Kate is an entrancing speaker. To bring Kate's heartfelt and inspiring message to your community or conference, give me a call at 503-699-5031 or email me at barbara@speakwellbeing.com
Summer Simplicity:
EASY PINEAPPLE SALSA
(and SNEAK PEEK of EAT REAL COOKBOOK)
Need a yummy summer appetizer for your next barbecue? This Pineapple Salsa from speaker Zonya Foco's new EAT REAL Cookbook, is easy, healthy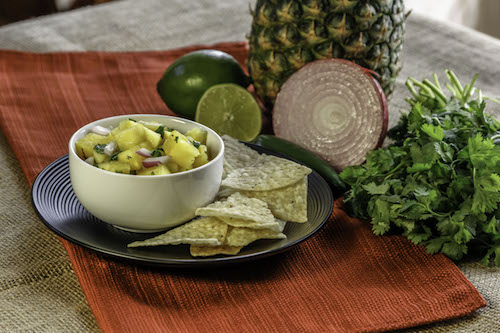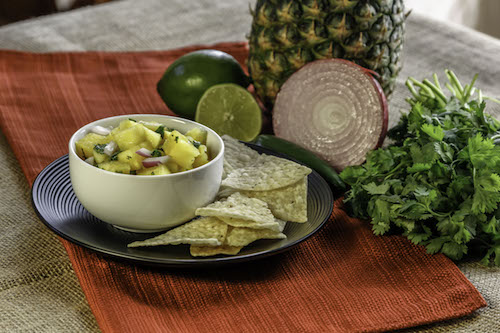 and delicious. I know, I've made it several times now for parties and receptions, and everyone devoured it every time!
Add to a medium size bowl and stir to combine:
1 fresh pineapple, peeled, cored and diced into very small pieces (about 4 cups)
1/4 cup chopped fresh cilantro – or more
1 small red onion, finely chopped
1/2 – 1 jalapeno (for serrano pepper), finely chopped, remove seeds if desired
1 Tbsp lime juice (juice from half of a small lime)
Dash salt
This salsa is best when prepared 20-30 minutes before serving so the flavors can meld together. Good luck waiting that long to eat it!
Serve it as a side salad or with tortilla chips as desired. Enjoy!
And, if you're interested in even more food ideas, take a peek inside the book and feast on seven more recipes. Just click here.
Until next time, take care of yourself for your well being and those you love.
Yours truly,
Barbara
For Your Well Being is published with the intention of bringing you insider speaker reports, exclusive stories about special events around the country, meeting planner tips, and fun stuff from the worlds of health and well being. Be well and be in the know!
The Speak Well Being Group is a specialized speakers bureau, focusing on speakers for hospital-sponsored community events, healthcare organizations, nurses, conferences and women's groups. Our speakers are hand-selected. They are not only experts in their fields, they connect with their audiences while bringing them life-changing information, smiles of recognition and ultimately a sense of well being and hope.
Finding the perfect keynote speaker for your special event or conference is my personal passion, not just once, but year after year. It brings me great joy to know that your audience was delighted and moved by the speaker we selected together. I'm committed to making the process easy, pleasant and fun.