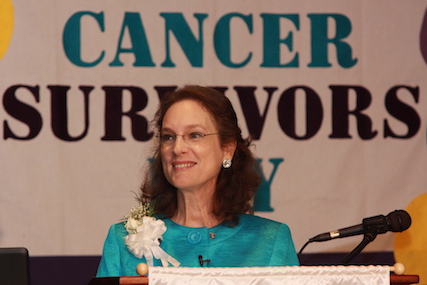 May 29, 2018
Vol.16, Issue 3
I'm sure it's safe to say that everyone reading this has been touched by cancer in their family, friends, and even pets — as I was last summer when we lost our beagle to lymphoma. That was also the cancer that sadly took my Mom at age 59.
In addition I'm privileged to work with dozens of awesome speakers, who share their inspiration, perspectives and humor with audiences of cancer survivors, family members, and healthcare providers.
The good news is that remarkable progress is being made in research in both prevention and treatment. The bad news is that it's not fast enough for those living right now with various stages of cancer and facing the terrible uncertainty of what they can do to stay alive.
So, what's left in between the research progress and the reality presented by a terrifying diagnosis? Our speaker Wendy S. Harpham, MD, FACP, believes in hope, but not just simple hope.
"America's 14.5 million cancer survivors want and need hope. Not just any hope, but healing hope—hope that helps them live their best life," she emphasizes in her new book, Healing Hope — Through and Beyond Cancer.
Dr. Harpham is a nationally recognized physician as well as a survivor of non-Hodgkin's lymphoma and an award-winning thought-leader in survivorship. In this book and her current keynotes for survivors and healthcare providers – including, for example, oncology nurses – Dr. Harpham offers practical guidance on what to hope for and how to find, maintain, and nourish hope.
HEALING HOPE
"Wendy tells you how to nourish hope that heals—realistic hope, honest hope, hope that can keep you from wasting time and energy on despair, denial or wishful thinking… Healing Hope–inspired and inspiring words to live by." – Jane Brody, New York Times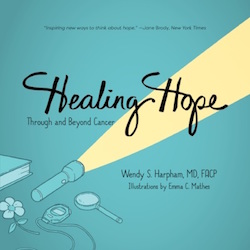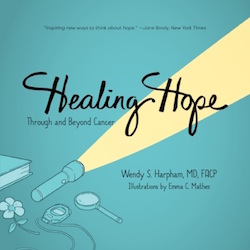 "Every day, patients are urged to 'have hope' or 'choose hope,'" Wendy S. Harpham, MD, FACP, says, "as if all they need to do to feel hopeful is to decide to feel hopeful. It's not so simple. Healing Hope encourages patients to reflect on what they are hoping for, talk about their hopes, invest in specific hopes that help them get good care and live as fully as possible, and use aphorisms to help them overcome obstacles to hope."
She believes there are times when aphorisms — short statements of truth — can help people more than all the sophisticated discussion in the world. "They can motivate patients to take proper action when tempted to do otherwise," she said, "They can change patients' perspective in ways that help them adjust to unwanted circumstances and move on.
"At times, aphorisms are the best medicine for calming anxiety or motivating proper action," Dr. Harpham explains. "After decades of sharing the insights and aphorisms in my lectures and one-on-one communications all over the world, I'm convinced of their universal appeal and power."
While cliché aphorisms—e.g., "This too shall pass." or "It is what it is."— have earned a valued place in coping with illness, those oldies don't help patients deal with specific medical challenges such as waiting for scan results. That's why she developed her own repertoire of illness-specific aphorisms, such as these two that address "scanxiety": "The Best News is Accurate News" and "The Diagnosis Sets Us Free, Even If It Hurts When We Learn It."
Dr. Harpham, who keeps up-to-date with available resources for patients, explains, "Given the importance of hope in healing, it boggles my mind how few resources teach patients what hope is and how to nourish healing hope. Having experienced the power of hope as both a physician and a patient, I feel compelled to share what I've learned about investing only in hopes that help and avoiding hopes that may cause harm."
Her interest in hope in the context of cancer survivorship was prompted one afternoon in the mid-1990s, when she sat down to begin writing the "Hope" chapter for her book, Happiness in a Storm. Expecting to dash off a definition before digging into the meat of the chapter, she sat still for a very long time, stymied. Subsequent research led her to a useful definition of hope and defining it in this new way ignited an ongoing passion to explore how to help patients use hope effectively in healing. The more she learned, the more convinced she became of the power of healing hope to help patients get good care and live as fully as possible.
"Since hope is a feeling experienced when a certain pattern of brain cells is stimulated in a specific pattern, anything that affects brain chemistry might affect hope." she said. "This helps explain why, all other things being equal (i.e., same diagnosis, same treatment, same social support, etc.), it may be more difficult to feel hope if you are in pain, sleep-deprived, or on medication with a known risk of causing depression."
A common hope while going through evaluations is "hope for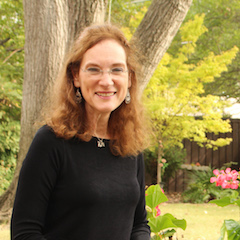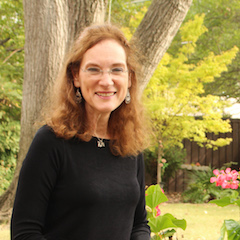 good news." This is a natural—and realistic—hope. As a patient, she said that hope never helped her through the uncertainty. If anything, that hope made her feel more vulnerable and impotent. Then, if the results were not what she'd hoped for, she subconsciously and irrationally felt somehow responsible—as if she hadn't hoped well enough or hard enough.
"In 1992, I discovered a more useful hope after I developed worrisome symptoms and underwent evaluation: hope for accurate news—news that helps patients deal with what is happening, which led to the aphorism: 'The best news is accurate news.'
"If I've learned anything in my 27+ years of survivorship," she said, "it's that in every situation there is hope. It's up to us to reflect on our hopes and make efforts to set the stage for healing hope. Cicero said, 'While there's life, there's hope.' I agree. I also believe where there is hope there is life."
The Book: 50 Aphorisms that are Effective
In Healing Hope, Dr. Harpham presents 50 illness-related aphorisms in a groundbreaking format with illustrations and succinct text that make her insights both accessible and memorable. Gender- and ethnic-neutral illustrations speak to patients of all ages and at all stages of survivorship. Readers can adopt or adapt her aphorisms that support efforts to get good care and live as fully as possible.
For example, one aphorism addresses patients who hesitate to report minor symptoms: "Reporting Symptoms is Not Complaining." This aphorism reframes talking about problems with the healthcare team as "reporting vital information" needed by their physicians to make proper diagnoses. Thereafter, that aphorism may help a patient overcome fear of appearing weak or sounding like a whiner.
Other aphorisms address other common challenges, such as the dilemma of answering "How are you?" ("Feeling Good Enough is Good Enough" and "We Don't Need Scans to Know How We Are").
After 9 separate courses of treatment over 17 years, she is now in her longest remission. In addition to her books, Dr. Harpham writes an award-winning regular column in Oncology Times. Her numerous national awards include her latest, the 2018 Davies Memorial Scholarship Award from the American College of Physicians for her contributions to the humanities. Notably, the 2000 Governor's Award for Health led to her induction into the Texas Women's Hall of Fame.
Known for her wit, Dr. Harpham is a nationally recognized keynote speaker. At survivorship conferences and celebrations, she connects with patients and their families as only a survivor can, sharing stories and advice that both educate and inspire.
For her keynote lectures at medical Grand Rounds and at all-day medical conferences, Dr. Harpham addresses a wide range of caregivers – doctors, nurses and other allied health professionals. From her shared background as a physician, she offers valuable insights and suggestions for reinforcing the human side of healing patients in today's medical world of high-tech treatments, Internet-savvy patients, and ever-increasing time pressures.
Whether your audience consists of primary care clinicians, oncology professionals or cancer survivors, they will all love Dr. Harpham and be grateful to learn her profound approach to healing. To bring her to your hospital or conference event, give me a call at 503-699-5031 or email barbara@speakwellbeing.com
FLOWER THERAPY
Flowers bring me happiness. I breathe them in. They make me smile, they let me care for them, and so you will always find a vase of flowers on my kitchen counter or dining room table, likely from Trader Joe's or, in season, from our local fruit stand or farmer's market.
But to encounter fields and fields of flowers, is that not happiness? Holy Cow! My watercolor teacher (did I mention I've taken up watercolor painting?), called me spontaneously last weekend. She was out in a peony field doing research — gathering flowers for us to paint. My husband and I jumped in the car. OMG!
Just 30 mi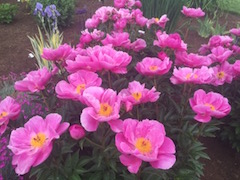 nutes from home, the Willamette Valley has fields and fields of flowers — tulips, iris, rhododendrons, dahlias – depending on the time of year. But, right now — peak season — it is peonies that surprise and delight. Row after row of Wow, Wow, Wow! Incredible beauty! And the flowers were crawling with bees who could have cared less about us — they appeared to be totally drunk on the nectar they were collecting— I mean literally laying in the bosom of the flower, too inebriated to fly!
I encourage you to find a local respite — flower field, waterfall, lake, stream, field of beauty — and just go and enjoy it. Be like the bees — drown in your senses, in a good way! Until next time, take care of yourself for your well being and those you love.
Yours truly,
Barbara
For Your Well Being is published with the intention of bringing you insider speaker reports, exclusive stories about special events around the country, meeting planner tips, and fun stuff from the worlds of health and well being. Be well and be in the know!
The Speak Well Being Group is a specialized speakers bureau, focusing on speakers for hospital-sponsored community events, healthcare organizations, nurses, conferences and women's groups. Our speakers are hand-selected. They are not only experts in their fields, they connect with their audiences while bringing them life-changing information, smiles of recognition and ultimately a sense of well being and hope.
Finding the perfect keynote speaker for your special event or conference is my personal passion, not just once, but year after year. It brings me great joy to know that your audience was delighted and moved by the speaker we selected together. I'm committed to making the process easy, pleasant and fun.