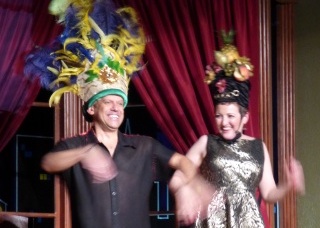 March 18, 2014, Vol. 12, Issue 5
I was sitting in a comedy club a few weeks ago, when I leaned over to my friend, and said, "I love my job. Even I find it hard to believe — but attending a comedy show is research for me."  We looked at each other and giggled.
Now, a comedy club is not a normal venue for my speakers, but I wanted to let you know that I'm willing to go to any lengths to find you outstanding speakers for your events.  Like I said, tough job . . . while eating and drinking – and laughing all night.
In this case, it was a Komen fundraiser being held at a local comedy club.  Breast cancer survivor and comedian Jacki Kane, featured in our story today, was the headliner, presenting her show, "Waiting for the Brazilian."  It was that title, and a photo in a Komen Oregon Facebook post that attracted my attention. (And I think you can see why this poster attracted my attention, and would do the same for your clients, guests, and patients!)
So many of our clients are looking for fun programs for their breast cancer awareness and survivor recognition events that I knew immediately that I had to check out this program. It turned out that the Brazilian reference had to do with both a dancing partner (very hot!), and hair loss in a certain place — and all tastefully delivered. It is a winning combination by a very talented and committed comedian/speaker.
Jacki Kane
Waiting for the Brazilian
A few days after the program, Jacki and I met at a coffee shop. As we were navigating our way through the nuances of humor, comedy and cancer, she confessed unabashedly that humor was the only way she knew how to get through cancer, or any adversity for that matter. It was automatic for her.
In fact, in just a few weeks, she was going to be addressing an oncology conference from a patient's perspective. While she told me she was a bit apprehensive about it, I could tell from her honesty and
openness, as well as my experience of her onstage, that she would be making a big impression on all of the doctors and oncology service providers who would hear her. In my book that is a huge talent, and a big service.
For some people, putting the words cancer and comedy in the same sentence simply doesn't compute. However, when you're a humor writer like Jacki, it's natural. When you hear her program, you'll appreciate that it's a coping mechanism that works — both in the trenches of treatment and as a way to help inspire those newly diagnosed that they too, can make it through. The women who packed her show experienced the power of laughter as medicine.
Jacki is a comedian, a humorous speaker, an award-winning writer and now, a cancer survivor. Emerging from cancer treatment last year, Jacki found some notes she'd scribbled early in her treatment when she was hopped up on steroids. She was surprised that the material was so funny. Before cancer, she had taught healthcare workers how to take care of themselves, and she had founded "TIME OUT: The Mother of All Comedy Shows." In that show she had empowered hundreds of women to laugh their way through motherhood.
And so now that she's defeated cancer, she's emerged with all-new insight about harnessing the power of a positive attitude and laughter to get through adversity. What better way to celebrate surviving breast cancer than to make fun of it and share the love!
When Jacki found out all her hair would fall out with chemo, her first reaction was: "Awesome! A Brazilian without the wax."  I would be giving it away if I revealed her stories, so let me just suffice it to say, that I've seen lots of women tell bald stories, nurse stories, chemo stories, husbands, kids, etc, etc., etc., Jacki tips the scales; she has a wondrous delivery that makes you feel like she knows every thought in your head, especially the ones you didn't want anyone to know you were thinking. And it's all okay.  She makes it okay.  She's the real deal.
And then there's the extra kick — Beto, her Brazilian sidekick.  Beto, who was (and is) a real-life neighbor and friend, helped her through her cancer journey.
And he's a dance instructor. Can you say "Samba?"
The "Waiting for the Brazilian" program can be delivered either of two ways. Choose the Comedy Show version, and Jacki delivers the comedy show PLUS Beto, who adds to the festivities by bringing the dance (Brazilian) to life.  Beto is not only part of the show, he teaches Samba lessons (Hot, Hot, Hot!) before the show, and then at the end of the program, he brings the audience to their feet to dance along!
Or when more of a presentation style is appropriate, Jacki takes the stage alone — and commands it. Her indomitable spirit and sharp sense of humor will make your audience laugh into their pink lemonade, tears streaming in camaraderie. What will move them is this: She is one of us — a woman on an journey, sometimes hairless, but dancing bravely through it all.
I have three video clips of Jacki on my website so you can see her in action and get a couple of laughs right now. Although her Brazilian show in Portland was filmed, editing is still in progress. So the clips on our website at this time are from other programs like "Don't Let Your Sanity Check Bounce," and "Laughter is the Best Medicine."
October dates for breast cancer topics are booking up, so if this program interests you, contact me soon at 503-699-5031 or email me at barbara@speakwellbeing.com.
WINTER RESPITE
Cannon Beach is a cute, artsy resort town on the Oregon Coast, and that's where my husband and I took a mid-winter break from the home front a couple of weeks ago. The fierce wind outside blew the cold rain sideways all the way to Washington, for all we knew, but we were cozy in a cute cabin, pure white wainscot walls and ceiling, complete with fireplace, kitchenette, and a big TV. Our first night we just sunk into the bed and watched the Oscars drone on and on. Who cared about winners and losers?
We did get outside the next two days, braving the wind and rain as we walked up and down the beach past the giant rocks in the surf and sloshed across the
small streams that drain the coastal mountains so I could get in my 10,000 steps each day. But we felt like intrepid explorers out there in the gale, nearly alone on the wide beach with Bella, the beagle, who got the rare opportunity to run off leash. And run she did, picking up a stick here and there to play catch.
Our Oregon coast is home to a wonderful mollusk called the razor clam. It's tough unless you pound it with a tenderizer. But its flavor is one of the wonders of the world. James Beard wrote rapturous descriptions of it, and rightly so. We gorged on it – in chowder at lunch and fried in batter for dinner. We even folded some leftovers into our omelets the last morning, just before the rain began to let up and we set off on our return trip home.
In one of nature's wonderful juxtapositions, there were daffodils blooming everywhere at the Coast, amidst the cold, blowing wind — much more so than in Portland, where they're just starting to shine this week.  A getaway always does me good, even it's brief and the weather is rough.
Until next time, take care of yourself for your well being and those you love.
Yours truly,
Barbara

For Your Well Being is published bi-weekly. We bring you insider speaker reports, exclusive stories about special events around the country, meeting planner tips, and fun stuff from the worlds of health and well being. Be well and be in the know!
The Speak Well Being Group is a specialized speakers bureau, focusing on speakers for hospital-sponsored community events, healthcare organizations, nurses, conferences and women's groups. Our speakers are hand-selected. They are not only experts in their fields, they connect with their audiences while bringing them life-changing information, smiles of recognition and ultimately a sense of well being and hope.
Finding the perfect keynote speaker for your special event or conference is my personal passion, not just once, but year after year. It brings me great joy to know that your audience was delighted and moved by the speaker we selected together. I'm committed to making the process easy, pleasant and fun.