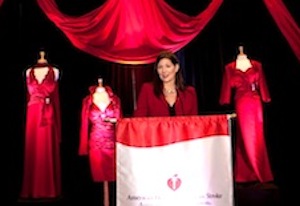 August 19, 2014, Vol. 12, Issue 14
Patience is not one my best qualities. In fact I turned into a raving lunatic the other day when my efforts to outwit a changing light at an intersection was foiled, causing me to have to wait through two more lights. In my anxiety — as I was hurrying to get out of town — this was beyond my coping mechanism.
And so I am humbled when I read Ginger Zimmerman's posts on Facebook. Ginger is one of our heart health speakers — a heart transplant recipient 16 years ago, and tireless advocate for women's heart health — who is now suffering from complications and needs a second heart transplant. She's been in a New York hospital since April 27, first having to undergo testing to qualify for a transplant and now engaged in a day-by-day waiting game for a donor as her health steadily declines.
So, I write this today, not to promote her as a speaker — although my deepest desire is that within several months, I can be doing that again — but because her vibrant spirit inspires me, and I hope it brings that forth in you as well. And, for me, remembering to be patient would be a bonus.
Ginger Zimmerman
A Heart's Desire
In a blog post in 2011,when I wrote about Ginger, her message was about the importance of listening to your body — it's talking to you. I know that message is still important to her, but today she is also beating the drum
for the cause of organ donation, as she patiently awaits a new heart.
She is 49 years old, and is one of nearly 4,000 people waiting for a heart transplant in the United States.  Due to a national shortage of donated organs, an average of 18 people die each day waiting for transplants.
After 16 years of writing and speaking on how we all need to maintain hearth health, she has been blindsided by the deterioration of her transplanted heart. Once again she is waiting, hoping and, as we all are, trusting that a heart will become available in time.
While it's been heartwarming to see the support of her friends, family and fans, it has also been heart-wrenching to read her Facebook posts. She's suffering from pain and fatigue, which is inherent with a failing heart, and she's dealing with additional medical complications. It's a big deal to even qualify for the waiting list. Then there's the delicate balance of medications and daily blood draws that leave her arms bruised.
Yet, she remains optimistic. She keeps busy with her posts on social media, her writing and her artwork. She looks forward to visits from family and friends, as well as the many cards and gifts she's been receiving in the mail. Dr. Oz has even paid her a visit. Just getting out of the hospital for a brief picnic on the lawn with friends recently was a very big and enjoyable deal for her.
"Sometimes I have bad days, but I try to pull myself up and remind myself what I'm trying to accomplish," Ginger said. "It's a process you have to keep going through. You have to do your part to stay positive. The rest is out of your hands."
In 1998 she waited 4 months for her first heart. She finally received one, and started the long recovery process in the hospital. Nine days into her recovery, Ginger awoke with a strange but strong feeling that she should call home right away. When her husband answered, his voice, although joyful, sounded weak. He was in fact suffering from the aftermath of an undetected fatal brain injury incurred in a helicopter crash while trying to reach her bedside for the transplant. At great risk — one she was willing to take — Ginger got to his bedside in a hospital in another city to say goodbye just before he passed. She was left with one main inspiration at that time, which was her three young sons. Now, while she'd like to see her sons start their own families, she's focusing on what's ahead for her — all of the things she still wants to do with her life.
She has a burning ambition to spread the word through Go Red for Women and any
other health-oriented event, that women's heart health is important and that in most cases we can prevent heart attacks if we pay attention to the basic elements of health – exercise and diet.
"It's easy to take for granted, but every day brings new hope and new opportunities," Ginger said. "I think I still have a lot to offer and a lot of ideas for my life." I agree, and lots of us are waiting and hoping and praying for her, for her contributions to the awareness of women's health, and especially women's heart health, have been substantial.
Although she can't be out speaking at events, she keeps up her mission of educating people, particularly women, about heart health and organ donation, through her social media activities.
If you'd like to send her a message of support, visit her on Facebook at this link. If you would like to contribute to help with her medical costs, please visit the Give It Forward web page. Every donor receives a print of one of her paintings, and you would be proud to have one in your collection.
Congratulations to
Comedian Wendy Liebman
On a lighter note, did you see comedian Wendy Liebman on America's Got Talent last week? She made it to the quarterfinals, and
I think it's very difficult for a comedian, especially a woman, to make it that far in that competition. She is one funny lady.
Now, you won't find her on my website because she's represented by an entertainment group, but I recently worked with them and booked her for a client's Girl's Night Out this fall. It's the 20th anniversary year for this event, and they wanted to make it really special with a celebrity comedian. So I asked some of my sources, and they recommended Wendy.
Little did we know then that she would be on this popular national television show this summer, or that she would make it to the quarterfinal round!
Here, with an understated throwaway line at the end that is typical of her delivery, is an excerpt from her official biography:
Originally from Long Island, NY, Wendy started her career in Boston after taking a class at The Cambridge Center for Adult Education in How To Be A Stand-up Comedian. Since then she has been a regular on late night television, including Carson, Fallon, Letterman, Kimmel, Ferguson and Leno. Wendy has done half-hour specials for HBO and Comedy Central, and her first hour, "Wendy Liebman: Taller on TV" premiered on Showtime in 2011. Wendy has been in three documentaries: "The Aristocrats", "The Boys: The Sherman Brothers' Story," and "Why We Laugh: Funny Women" recently on Showtime, and she was the recipient of The American Comedy Award for Best Female Comedian. Wendy currently co- hosts UNBOUND with Terri Nunn, on KCSN, 88.5 FM in Los Angeles. She also performs at clubs, corporations, and benefit shows throughout the US and Canada. She lives in Los Angeles with her husband, Jeffrey Sherman, her amazing stepsons and her funny dog. She was recently in New York Magazine, as number 23 down in the crossword puzzle.
If you find yourself wanting something different in a speaker or comedian than you see on our website, please give me a call. Some speakers are exclusive with an agency, but I can still get them for you. And, I love the search. It keeps me on my toes.
SMART SUMMER SNACKING
Our fabulous wellness speaker, Dr. Karen Wolfe shared these
ideas in her blog, and I thought they worth re-sharing with you. EnJOY!
Here are four delicious and easy-to-make snacks that are perfect for summer
Instead of chips, try munching on asparagus. It's delicious raw or lightly steamed. Throw some in your lunch box for a snack or use a few stalks to dress up your next vegetable platter
For a refreshing smoothie, combine a banana with 1 cup frozen berries and 1/2 cup 0% fat, unflavored Greek yogurt in a blender. Process until smooth.
Got a ripe banana? Peel, then roll it over a tablespoon or 2 of roasted sunflower seeds or chopped peanuts, walnuts, or other nuts. Wrap in wax paper or plastic wrap and freeze overnight. Eat it like a Popsicle.
Combine 1 cup chopped pineapple with 1 frozen banana and 1/2 cup unsweetened coconut water in a blender. Process until smooth.
SOURCE – NutritionAction.com, a division of the non-profit Center for Science in the Public Interest, 1220 L Street, N.W., Suite 300, Washington, DC 20005. Website: www.NutritionAction.com
Until next time, take care of yourself for your well being and those you love.
Yours truly,
Barbara
For Your Well Being is published bi-weekly. We bring you insider speaker reports, exclusive stories about special events around the country, meeting planner tips, and fun stuff from the worlds of health and well being. Be well and be in the know!
The Speak Well Being Group is a specialized speakers bureau, focusing on speakers for hospital-sponsored community events, healthcare organizations, nurses, conferences and women's groups. Our speakers are hand-selected. They are not only experts in their fields, they connect with their audiences while bringing them life-changing information, smiles of recognition and ultimately a sense of well being and hope.
Finding the perfect keynote speaker for your special event or conference is my personal passion, not just once, but year after year. It brings me great joy to know that your audience was delighted and moved by the speaker we selected together. I'm committed to making the process easy, pleasant and fun.