Oct. 6, 2016
Vol.14, Issue 7
I didn't plan a break from connecting with you, but when the website renovation project got underway mid-summer it took on a life of its own, pre-empting just about everything else in its way. I'm very excited to share it, as it has lots of new features as well as being mobile friendly. I'll highlight a few here, and then invite you to explore!
The Home Page has lots of flexibility, and I'll be changing it frequently to feature different genres of speakers. For example, since October is Breast Cancer Awareness Month, we're featuring our breast cancer survivor speakers. The Home page also includes a couple of featured testimonials and three blog posts — all highlighting breast cancer survivor speakers this month.
The Speaker Search functionality is very rich. It's always available from the top of the site.
You can search by one topic or multiple topics, your event type, and, if it's important to you, also geographically. So for instance, if you want a breast cancer survivor speaker in Texas, you can select Breast Cancer Survivor in Topics, and Texas in Location. Search will bring up all the speakers who meet your criteria, and then you can simply click through to each speaker's profile. We've also added a Favorites feature (the little heart in the upper right hand corner of each speaker's head shot), so you can mark your favorites, and save them.
Each Speaker Page features video content of the speaker in action — lots of clips in many cases — as well as topics with descriptions. And from any speaker page, you can click on the categories in the left column and find all the other speakers who offer expertise in that topic or event type. The same goes for the Location. Click on it and it will bring up all other speakers in that state.
You may also notice that our logo got a makeover. I wanted to keep the graphic ripple effect but de-emphasize the Group (while not changing the name). When I started in 1998, I was representing just a few speakers; that number grew quickly to about a dozen. Everybody knew each other, and it felt like a group. As the years passed, I've constantly added new talent, so I could keep bringing our clients new personalities for their annual events. So, obviously, it doesn't feel like a group anymore!
Besides, I wanted to move away from a connotation of limitation. The reality is that I can reach out to any speaker or celebrity that could be a good fit for an event, even though she is not on our roster. As we are so specialized in the markets we serve, I monitor our event types via Google alerts, and keep lists of celebrities in the categories that are of interest to our clients — like cancer survivors or women's wellness authors, news anchors, etc. Many celebrities are represented exclusively by one agency, and when that is the case we simply co-broker.
For instance, Mary Greeley Medical Center in Ames, Iowa, is celebrating their 100th anniversary this year, and they wanted to do something special for their Girl's Night Out by bringing in a celebrity speaker who is a breast cancer survivor. I gave them several recommendations, and they selected Samantha Harris, a seasoned entertainment news journalist and two-time Emmy-nominated TV personality, who may best be known for her eight seasons co-hosting the live ABC hit 'Dancing With The Stars.' She is set to speak there this week, and I can't wait to hear all about it.
Since I haven't written on a regular basis, I have quite a backlog of stories to share and look forward to getting back on my regular bi-weekly schedule. Please send your feedback about the website. We'd like to be aware of any glitches, and are open to any improvements you might suggest. Thank you very much.
The Wallowa Mountains – A Welcome Reprieve
On Labor Day, my husband, beagle Bella, and I, headed for the Wallowa Mountains in northeastern Oregon for a much-needed "summer" vacation. What a wonderful place! Beginning with a gorgeous lake, the mountains rise straight up from the prairie almost 5,000 feet. At the Wallowa Lake State Park campground, we were greeted by deer — many bucks with racks — wandering through our campsites like they owned the place — hmmmm, actually, they did…at one time.
The town of Joseph, famous for its bronze statues and foundry, was small, friendly and welcoming. There was no Internet at the campground — a good thing when you're on vacation — but we did need to check email once a day. Our home away from home office was an Internet cafe that happened to be a chocolate shop — Arrowhead Chocolates. I was completely at home there!
Although cold in the morning, the weather was good, and the campground was quiet and pleasant. We thoroughly enjoyed outdoor cooking, campfires, hiking around the area, relaxing and reading novels. One of our adventures was taking the tram up several thousand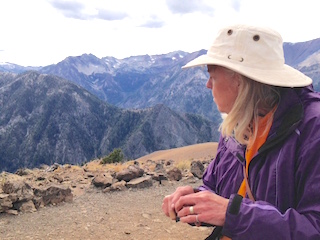 feet to the top of Mt. Howard, where the views were dramatic, and it was so peaceful, I could hear myself breathing.
And then we embarked on the opposite adventure: driving over a series of great, volcanic wrinkles in the earth, we arrived in Hell's Canyon, which is where the Snake River divides northeastern Oregon from Idaho — deepest river gorge in North America – and took an exciting and, well, refreshing jet boat ride through the rapids. Amazing basalt rock formations way up overhead all the way down to the water's edge, incredible beauty — awe-inspiring nature at its best!
If you ever need an excuse to take a vacation, let me witness that it was the best prescription I've ever given myself. I've had some unresolved pains since my hip replacement last year – until about midway through the week, when I noticed that they were almost completely gone. Ahhh…
Until next time, take care of yourself for your well being and those you love.
Yours truly,
For Your Well Being is published bi-weekly. We bring you insider speaker reports, exclusive stories about special events around the country, meeting planner tips, and fun stuff from the worlds of health and well being. Be well and be in the know!
The Speak Well Being Group is a specialized speakers bureau, focusing on speakers for hospital-sponsored community events, healthcare organizations, nurses, conferences and women's groups. Our speakers are hand-selected — they are not only experts in their fields, they connect with their audiences and deliver life-changing information, often with plenty of humor and empathy.
Finding the perfect keynote speaker for your special event or conference is my personal passion, not just once, but year after year. It brings me great joy to know that your audience was delighted and moved by the speaker we selected together. I'm committed to making the process easy, pleasant and fun.