Oct. 27, 2016
Vol.14, Issue 8
Health concerns are changing. If asked their greatest health concern, until recently most people would have answered cancer, or heart disease. Today the number one health concern is losing brain function as we age — being diagnosed with Alzheimer's, Dementia, or some other form of cognitive decline.
In her TEDx talk, "Changing Your Brain is as Simple as Child's Play," our speaker Denise Medved,  delves into this topic with expertise, as well as a sense of humor. On the expertise side, she has spent the last twelve years studying the fields of neuroscience, aging, and exercise, through her work with a Top 100 Hospital, a graduate course in gerontology, and as a graduate of the The Neuroscience Academy, based in Sydney, Australia.
Her twin goals were to discover why people age so differently, and whether or not we have any control over how we age, both physically and mentally. Every Baby Boomer I know is interested in this topic — and young people should be!
Go ahead; take 12 minutes to listen to this highly informative and entertaining talk. You can find it here, but first you can read a few highlights here in this preview.
Denise Medved:
Changing Your Brain is as Simple as Child's Play
We don't stop playing because we grow old. We grow old because we stop playing. —                                                       George Bernard Shaw.
I first met Denise at a Nia Conference, shortly after I moved to Portland. She has been an International Nia Technique Trainer for 15 years, and has been teaching Nia for 28 years. She is also a Certified Personal Trainer, tai chi and feng shui instructor, and in addition she spent 29 years in the corporate marketing and PR world with Fortune 1000 companies.
A youthful 64 years old, Denise has been passionate about exercise most of her life, in large part due to her efforts to overcome spinal challenges. She's observed that the more she moves, the better she feels and the better her body and brain function.
She was born with a mild case of Spina Bifida, and she suffered from pain in her spine all of her childhood and early adult life. A damaged cervical vertebra from a car accident only made matters worse. She was also born with issues in her feet for which she has had eleven surgeries.
But it was an encounter with a doctor at the age of 22 that changed Denise's life forever. She was in the Hospital for Special Surgery in New York with an inflamed spine and the prognosis was not good. She was told she needed surgery and that even with surgery she might expect to be wheelchair-bound by her 50's.
Denise sat before the doctor, racked with pain, barely able to walk and completely overwhelmed by the dire prognosis given to her. She didn't want to live a life limited by pain. Before she could make a decision about whether or not to have surgery, the Hospital Chief of Staff turned to her and said:
"If you were my daughter, I would tell you not to have the surgery. I would tell you to go home and exercise every single day for the rest of your life. If you move your entire body every day, you will do well. If you don't move your body every single day, then you're  facing years of pain, surgeries, and eventually you may be confined to a wheelchair."
Denise chose to take the Chief of Staff's advice, and now at 64 Denise is healthier and stronger than when she was in her 20s. She is also completely free of pain.
That conversation with the Chief of Staff led Denise to a passion for fitness, dance, Nia, The Jane Boutelle technique for spinal pain and almost every type of movement imaginable, which she practiced diligently alongside her corporate marketing career.
Recent research is indicating that exercise, which she is so passionate about, is good for more than healing injuries, strengthening muscles and keeping joints supple. It's good for your brain too. Neuroplasticity — the ability of the brain and nervous system to change structurally and functionally — is vital for active aging.
"It turns out that simple word games and puzzles do not delay cognitive decline," she says. "They only affect some of the brain and they just make you better at puzzles. Traditional repetitive exercise does not either. There is something that scientists believe you can do to delay cognitive decline, and I'm here to tell you just a few simple ways to do that."
Here is her first revelation: Scientists now believe that the primary purpose of the brain is to control physical movement of the body.
"As a child, every time you went out to play, you were firing neurons," she says in her TEDx talk, "and you were developing something called neural pathways that deliver messages between the brain and the body. You were also developing the five primary functions of your brain — strategic planning, memory and recall, analytical thinking, creativity or imagination, and kinesthetic learning."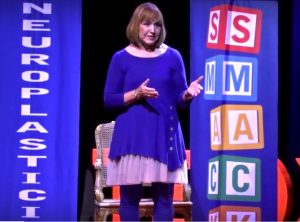 "When we learn, we alter genes in our neurons that actually change our brains. Neuroscientists now know that we can continue to develop and change our brains, no matter how old we are. Through play, we can learn to restore, maintain and develop new neural pathways by practicing something we don't already know how to do, or by playing at doing something we know how to do in a different way. It can take as little as 10 minutes a day to stimulate all of the brain functions of the body through physical action."
In her TEDx talk, as you will see in the video (Click here), she demonstrates how sitting and pretending to play seated sports or pretending to spell with your body causes you to strategize, use your memory, analyze, be creative, figure it out with your body, and engage all of the functions of your brain.
Denise is passionate about helping people live ageless, graceful and happier lives by improving their body and brain skills. She encourages all of us to play at least 10 minutes a day.
"Come up with new ideas each time; do something you've never done before; try doing something you know how to do in a different way. I believe that you'll discover — and hopefully spread the idea — that changing your aging brain can be as simple as child's play."
Again, I encourage you to watch the entire TEDx talk. It's just 12 minutes, and it will fly by as Denise educates you and makes her point about neural pathways with a baseball acronym. It's all about play!
Denise Medved is the creator of Ageless Grace®, a cutting-edge brain fitness program based on neuroplasticity that activates all 5 functions of the brain – analytical, strategic, kinesthetic learning, memory/recall, creativity and imagination – and simultaneously addresses all 21 physical skills needed for lifelong optimal function.
She trains people around the world both for their own personal practice and for professional certification to teach Ageless Grace to others. To learn more about bringing Denise to your community, give me a call of 503-699-5031, or visit our website.
Exercising the Joy of Play
After working with my head to the grindstone on my website all summer, I knew I needed some downtime (and rewards), so I booked our vacation (that I wrote about in my last blog) in September, a writing retreat in October, and a watercolor painting class that I'm still enjoying.
The writing retreat was at Harmony Hill — a lovely retreat center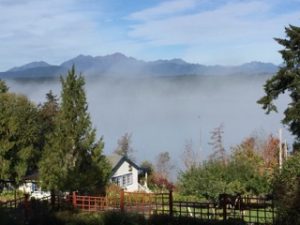 in Union, WA, on the Hood Canal, where 25 of us focused on writing memoirs – a dive into my personal (as distinct from my professional) life — easy joy and very close to my heart. It's far from being a book yet, but it's a start.
By contrast my watercolor class is happening weekly — I'm enjoying it immensely. Talk about trying something new — it's definitely exercising my creative muscle and eye-hand coordination, and it's possibly resurrecting some latent childhood talent. We'll see.
Some people call this self-care, and it is. For me, these things are also play. Play is the perfect antidote for over-work. Now, maybe I should also fire up some new neurons with a game of hopscotch!
Until next time, take this to heart, watch Denise's TEDx talk, and get moving, for your brain, as well as your body's sake.
And as always – Take care of yourself for your well being and those you love.
Yours truly,
Barbara
For Your Well Being is published bi-weekly. We bring you insider speaker reports, exclusive stories about special events around the country, meeting planner tips, and fun stuff from the worlds of health and well being. Be well and be in the know!
The Speak Well Being Group is a specialized speakers bureau, focusing on speakers for hospital-sponsored community events, healthcare organizations, nurses, conferences and women's groups. Our speakers are hand-selected. They are not only experts in their fields, they connect with their audiences while bringing them life-changing information, smiles of recognition and ultimately a sense of well being and hope.
Finding the perfect keynote speaker for your special event or conference is my personal passion, not just once, but year after year. It brings me great joy to know that your audience was delighted and moved by the speaker we selected together. I'm committed to making the process easy, pleasant and fun.