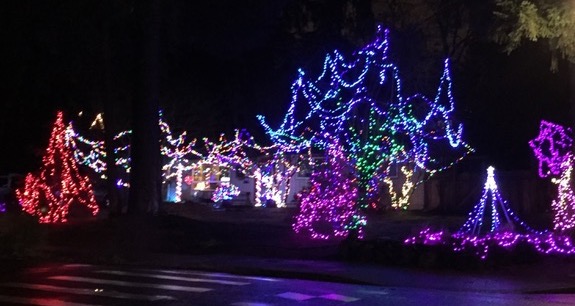 Dec. 8, 2016, Vol.14, Issue 10
With all the rain we get at this time of year, it's really, really dark in my part of the country — the sun goes down about 4:30. So, when I see outdoor Christmas lights start going up Thanksgiving weekend, including at my house, I get excited. This photo is of a neighbor's display that I walk by in the morning on my way to yoga — and yes, it wakes me up, with wonder!
I think we could all use a little (or a lot) of sparkle this season, and by that I mean the kind that lights up our souls, as well as our eyes. And that's exactly
what our speaker, Lois Barth, offers.
While bright, shiny bling-bling has always attracted her, she's developed a talent and passion for bringing out the sparkle in other people. That's the purpose of her new book Courage to Sparkle, The Audacious Girls' Guide to Creating a Life that Lights You Up, and of course, that's what she loves to talk to audiences about, as well.
Today I offer you a little of her sparkle to light up your holiday spirits, and inspire you to sparkle in the new year.
"This is the time of year when we're often encouraged to write gratitude lists, and that is great because it connects you with your blessings," Lois wrote in a blog post in the New York Daily News, "but a 'sparkle' list connects you with what makes you feel alive."
In her book, Courage to Sparkle, she writes, "Clients hire me saying, 'We need some light entertainment and some great motivational tips.' And while I deliver that, they quickly realize that my work goes much deeper.
"When I work with large audiences, I break the participants into small groups to share what their C2S (i.e., courage to sparkle) looks like. I see four reactions simultaneously. Most will get all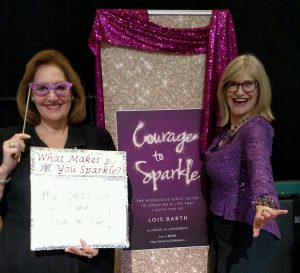 animated when they talk about what makes them sparkle. Then they are pleasantly surprised to learn what makes their colleagues sparkle as well. Some tear up when they realize how disconnected they are from their sparkle, and most poignantly, others will stare off into space totally stumped by the question, 'What makes you sparkle?'"
I see this inquiry as a wonderful opportunity to dive into the truth of your life. My invitation for you is to take a deep breath, to be irreverently curious and really ask yourself, "What makes me sparkle? What does my sparkle look and feel like?"
The Daily News blog continues: "This year I'm encouraging everyone to create a sparkle list of their passions and engage in them over the holidays and year-round on a regular basis," Lois says. "Life's ups and downs tend to put a dimmer on our shimmer and we need a little help to rediscover what lights us up. Engaging in your sparkle list passions will make the holiday brighter and remind you that's it all about joy, connection and fulfillment."
With her live audiences she really does lead them into places where their sparkles shine, where each listener can discover what her sparkle looks and feels like. As you can see if you click here and watch the video on her speaker page, this process of self-discovery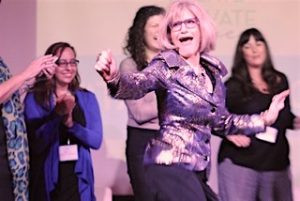 often begins with her audience standing up and participating, singing together, and breaking into small groups to ask each other questions about the important things in their lives that we seldom mention out loud.
They explore what the sparkle is, but the key here is that what makes any of us sparkle – the activities that bring us the deepest joy – reflect the deepest wells of purpose in our lives. So dipping into them makes a difference in the lives of her listeners, freeing up energy and enabling them to focus on the most satisfying aspects of their lives. And that can be life changing.
As you will also see if you click on her speaker page, her audiences seem to bubble over with enthusiasm and joy as they leave the hall, their faces both radiant and purposeful. As well they may.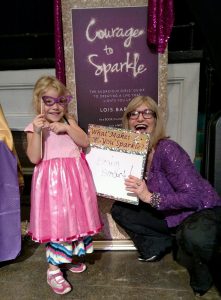 They have just experienced a connection inside themselves with their deepest joy, and moreover they have just shared it with others in their circle and been acknowledged for who they are.
During her time on stage they may give themselves permission to live with more intensity or to spend time on the activities that make them sparkle. They may have let years of covering up or making excuses drop away. They may have re-discovered what really matters to them. No wonder they bubble over. They are showing their sparkle as if it were new again.
Put Lois' talents to work and you'll put a sparkle in your conference, Girl's Night Out, or community event. For a preview, click here to watch that video, if you haven't already, and give me a call at 503-699-5031 or email me at barbara@speakwellbeing.com
Painting My Way
After a women's retreat last year, I decided one of the things I wanted to do — and didn't want to wait any longer to get started — was to paint. So, for starters, I bought myself a paint set for Christmas. It had the whole shebang – acrylics, oils, watercolors, and colored pencils.
I started with the easiest thing — coloring in adult coloring books, while watching TV. That made me smile. I kept an eye out for painting classes, and finally, when one appeared in my community parks & rec guide — "Beginning Watercolors" on Friday afternoons – I signed up for it without hesitation.
I started this fall, and I have to tell you it puts a big smile on my face and a spring in my step. For homework, I get to paint!
When I told one of my friends about it, she said, "Are you any good?" Gads, that's not the point. The point is I'm having fun. It's all practice. Every time I try something, I learn something, especially when I do it over and over — which the teacher wisely advises, as she shows us the sketchbooks of great painters that are full of sketches of the same thing over and over.
Last week it was an apple, this week a landscape. I have to say that so far the drawing part is quite a challenge, but if I can't get the freehand drawing down, I can always resort to tracing.  It's the coloring and shading that I love. Meantime, I'm having fun, stretching myself, and getting my color on.
Until next time, put some true sparkle in your life — the kind that lights up your soul, for your well being and those you love.
Yours truly,
Barbara
For Your Well Being is published bi-weekly. We bring you insider speaker reports, exclusive stories about special events around the country, meeting planner tips, and fun stuff from the worlds of health and well being. Be well and be in the know!
The Speak Well Being Group is a specialized speakers bureau, focusing on speakers for hospital-sponsored community events, healthcare organizations, nurses, conferences and women's groups. Our speakers are hand-selected. They are not only experts in their fields, they connect with their audiences while bringing them life-changing information, smiles of recognition and ultimately a sense of well being and hope.
Finding the perfect keynote speaker for your special event or conference is my personal passion, not just once, but year after year. It brings me great joy to know that your audience was delighted and moved by the speaker we selected together. I'm committed to making the process easy, pleasant and fun.