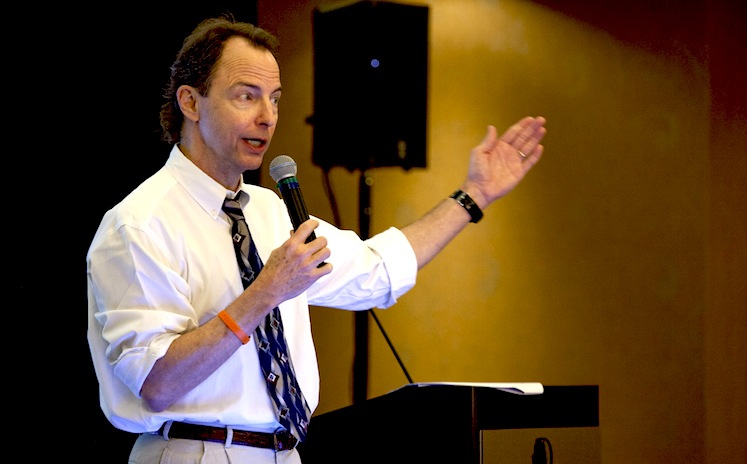 March 4, 2016
Vol.14, Issue 3
There are some things in life that are more difficult to talk about than others — suicide, depression and mental illness among them. Yet they are social issues that affect our families, communities and institutions. Mental health issues affect people at home and at work, and on a larger scale they lead to homelessness and affect the bottom lines of businesses. I've had several inquiries from clients who are bold enough to honor requests for these topics at their conferences. They're tough topics, but there's an antidote, and that is humor — when it's delivered by a professional, who is invested in the topic with his or her heart in the right place.
Now, it may seem like an oxymoron that a motivational speaker would have experience with suicide, depression or mental illness, let alone talk about it publicly. But they, too, are human, and subject to all of life's experiences. In this issue, I'll introduce professional speakers LaDonna Gatlin, and Frank King, who have both had personal experiences with depression and suicide, and who are willing to open up about those difficult topics with audiences who share their vulnerability. Both agree that there's too much silence and shame around mental illness. It needs to be brought out of the shadows, and humor is the pathway to hope and healing.
Crazy about Recovery
Yes, her name is familiar because LaDonna Gatlin, is the sister of country music's legendary Gatlin Brothers. She grew up on stage, but
ultimately decided to go her own way and sing her own song. She married and had two children, and in time she took the stage as a motivational speaker, where she incorporated her singing into her talks. She was so successful that she was inducted into the National Speaker Association's Hall of Fame in 2005.
And then self-doubt snuck into the scene. She recognized the signs — she'd witnessed her mother's bipolar phases, and her brother Larry's battle with alcohol and drugs (he's been clean now for decades). Her family history revealed generations of depression. She began suffering anxiety, lack of sleep, weight loss, and ultimately depression — the real thing.
She was under the care of a psychiatrist but still wasn't able to connect with the right kind of help, or ask for it, because she felt the stigma associated with mental illness. Although she considered her husband to be her best friend, she couldn't bring herself to let him know the depths of her despair. As he drove away to work each day, she crawled back into bed, and, before he returned, took pains to make it look like she'd been busy at something all day.
She'd been hiding her pain for a long time, when she reached the end of her rope and reached for a bottle of prescription sleeping pills. It was a gorgeous November day in 2008, as she describes it, with gentle breezes blowing through the windows of her home overlooking the golf course in Frisco, Texas. To any outside observer, all was right in the world. But inside LaDonna's brain, something had shifted into a deep well of darkness and hopelessness. She took 31 sleeping pills.
She went to sleep. Gently she reminds her audiences, when telling this story, that if you take 31 sleeping pills, you're going to go to sleep. (You can watch her tell this story in the video (on our website).
Thankfully, her husband got home and found her in time to get her to the hospital. The next day, she and her husband checked her into a mental health facility — and she remembered she had a lot to live for.
The diagnosis — a mental illness known as anhedonia — translates to "emotionally incapable of experiencing joy." Although the hospital stay was the most "humiliating, humbling, gut-wrenching experience of my life," she says, LaDonna realized that while her brain was ill, she could get better. Today she is most grateful that she got the correct diagnosis, the right psychiatrist, and the right medication, and she is on a mission to de-stigmatize mental illness.
In her talk, CRAZY ABOUT RECOVERY…My Journey Back from the Brink!, she employs her engaging communication style, coupled with a GIANT dose of humor to tackle this tough subject and leave your audience with a song in their hearts. As she transparently shares her own personal struggle and ultimate victory over Major Depressive Disorder, she delivers a powerful, yet upbeat experience on winning the war over emotional challenges, a message that empowers everyone who hears her – and may prevent some unseen suffering and suicides in every audience.
"There is hope, health and healing for mental illness. I'm living proof," she says.
For booking information, call me at 503-699-5031 or email me at barbara@speakwellbeing.com
Frank King, Mental Health Activist:
Battlefield Humor about Signs, Symptoms and Solutions
I first became aware of Frank King as a comedian and heart health speaker — the "Cardiac Comedian" — as he is the survivor of two aortic valve replacements, and a double bypass. As things turned out, heart disease is not the only thing that runs in his family. So does depression. He has had to come to terms with generations of depression and suicide, and since then he's added mental health activist to his repertoire as speaker and comedian.
It all started with his TED Talk, which you can view here, bottom video. It's well worth watching as he tackles head-on the issues associated with how we talk (or don't talk) about mental health in our society. Remember, he's a comedian; so his approach — tackling a serious topic with humor — helps get the message across like the proverbial spoonful of sugar that helps the medicine go down.
Which raises a question — A comedian, talking about depression and suicide? You might ask how exactly is he qualified.
Frank is quick to admit that he suffers from depression, and has thought about killing himself several times. He graphically tells the story of getting very close to putting a gun in his month in 2010.
"It was the heart of the recession. My corporate speaking business dropped off 80 percent. My wife and I declared Chapter 7 bankruptcy. We lost everything that we had worked for, for twenty-five years," he explains. In fact, for people who suffer from mental health issues, in contrast to what he calls "normies," suicide is always a choice. Fortunately, he's always found something to live for, and he gives credit to those around him who said the right things at the right time (If you want to hear the stories, watch the TED talk!).
"I believe that depression is at its core hopelessness," he says, "and with humor there's hope, with laughter there's life, and nobody dies laughing."
In typical Frank King fashion, he says that when he started researching TED talks on the topic of suicide, he didn't find much. "And then it hit me. Duh — if you're really good at it, you probably aren't going to be around to give a TED talk about it."
Fortunately, that dark sense of humor is therapeutic for him and helps him talk about this touchy subject. In his keynote, Standup for Mental Health,
he uses comedy to give the mental health field a powerful voice and to help reduce the stigma and discrimination around mental illness.
"The idea is that laughing at our setbacks raises us above them," he says. "It makes people go from despair to hope, and hope is crucial to anyone struggling with adversity. Studies prove that hopeful people are more resilient and also tend to live longer, healthier lives.
"Most so-called normal people would never want to go anywhere near stand up comedy," he continues. "Seeing a person with mental illness do it forces the audience to re-evaluate their perceptions of and prejudices against people who have a mental illness."
Frank is a former writer for The Tonight Show with Jay Leno, who is using his lifetime battle with depression and his skills as a full time speaker and comedian as a vehicle for social change. He creates customized presentations  for healthcare groups, corporations, associations, colleges and universities.
This is important health work. You can start the conversation and attract surprisingly large audiences in your community by bringing Frank King or LaDonna Gatlin to one of your events. Give me a call at 503-699-5031 or email barbara@speakwellbeing.com
NOTE: To be clear, both LaDonna and Frank deliver humorous, motivational programs on other topics, without reference to mental health issues when that is not appropriate for the event.
Laughter is Always Welcome Relief



I hear it all the time. Clients want humor, no matter how tough the topic. It's also something that can be recognized and practiced daily to enhance our personal lives.
For example, I was at a Buddhist Monastery recently for a weekend Mindful Eating retreat (woops! —I first typed Mindless eating – 🙂 a reason to smile). The instructions for visitors suggested that it saves them some expense if guests bring their own bedding and towels.
Since I was driving there, that was easy enough to do. I grabbed a set of single bed sheets that we use at home for the roll-away beds when the grandkids visit and drove to the monastery. Settling in to my simple dormitory type surroundings (in dim light, no less), I unfurled my (clean) sheets. Much to my surprise, a pair of lavender panties — little girl's size — flew out, bringing a Big Smile to my face. Ah, life. Kids. Memories of recent holidays. Yes. These are things that keep me laughing and sane. Well, and a weekend at a monastery helps, too. After all, there is a laughing Buddha.
Until next time, pause to chuckle, and take care of yourself for your well being and those you love.
Yours truly,
Barbara
For Your Well Being is published bi-weekly. We bring you insider speaker reports, exclusive stories about special events around the country, meeting planner tips, and fun stuff from the worlds of health and well being. Be well and be in the know!
The Speak Well Being Group is a specialized speakers bureau, focusing on speakers for hospital-sponsored community events, healthcare organizations, nurses, conferences and women's groups. Our speakers are hand-selected. They are not only experts in their fields, they connect with their audiences while bringing them life-changing information, smiles of recognition and ultimately a sense of well being and hope.
Finding the perfect keynote speaker for your special event or conference is my personal passion, not just once, but year after year. It brings me great joy to know that your audience was delighted and moved by the speaker we selected together. I'm committed to making the process easy, pleasant and fun.