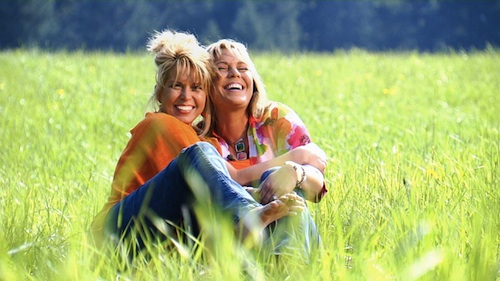 April 19, 2013, Vol. 11, Issue 8
We're just back from spring break, and visiting grandkids — girls, ages 2 and 5 — in Berkeley, California. What fun!  More about that later. First, I want to share a great story with you – about surviving cancer, a sister discovered, and skinny jeans.
It's spring, and that means planning for the many fall women's health and breast cancer events. As you know, I'm always seeking new speakers for you, but I'm also very excited when a speaker brings me a new twist.  That's the case with Heidi Marble's new program, Skin Tight Genes. This is an amazing story, and I've been hearing and reading a lot about using great stories in marketing.  Here's a special one for you.  Enjoy!
Heidi and Jen
SKIN TIGHT GENES
An Unlikely Story of Sisterhood
You may already be familiar with Heidi Marble, either because you've been fortunate enough to book her for your breast cancer survivor event or you've read about her here and here.  Heidi is a 12-year survivor of inflammatory breast cancer
— a virulent form of breast cancer that is fast growing and has a tendency to spread early and quickly. At the age of 34, she was considered too young to be diagnosed with this form of breast cancer. In fact she had to be very persistent to get a diagnosis. In her book, Waiting for Wings, A Woman's Metamorphosis Through Cancer, she weaves together intimate anecdotes with humor, grace, and a sense of genuine dedication to helping others. You have to claim hope, she states straight out, as a means to pull through — not just to survive, but to heal and become whole. This is also exactly what she does in her speaking programs.
And, this, dear readers, is the rest of the story.
In 1999, Heidi sought her birth family because she wanted to learn about her health history. What she did not anticipate is that she would find first a birth mother (who later would develop breast cancer) and second, a total surprise – a sister named Jen, born 13 months after her. Their bond was instant, and they both fully embraced this amazing surprise. Heidi writes "…when my sister knocked on the hotel room door [and I opened it], … I opened (literally and figuratively) a new chapter in my life. There she stood a near mirror image of me!  Our resemblance was so strong it stunned us both. All we could do was scream! As it turns out, she is taller and sassier than me."
Their bond was reinforced when five years after Heidi's life was drastically altered by her breast cancer diagnosis, her sister was on the phone telling Heidi that she too had been diagnosed with breast cancer.
"My heart crumbled," Heidi said. "The news accelerated as we learned that we carry the BRCA2 Breast Cancer Gene which puts us and possibly our children at greater risk."
"Thirteen years have passed since we have been blessed with sisterhood. Our relationship deepened through my cancer, her cancer, finding out we have the breast cancer gene, finding out we wear the same perfume, own the same cookbooks, sit the same way and finish each others sentences. She is bold and not involved with worry, she rides a Harley and drives a red car. Life for her is lived in the moment with passion. She is a fierce mother who protects her two beautiful children. She speaks her mind and has some very well placed tattoos.
"I on the other hand, worry full time, have only used stick-on tattoos, have a dusty gray car and scream every time I ride a motorcycle. I continually try to plan the past, present and future. I have mastered pouting and perfected the art of giving the 'silent treatment.' She lives on the East Coast and I live on the West Coast and when we collide the whole world stops and we are very simply sisters.
"
We love to get together so telling our stories together is the next logical step in the evolution of our relationship. Our presentation is natural and fluid because it comes straight from the heart of our relationship. The audience will need to prepare for a wild ride of emotions as we laugh, cry and celebrate life. Our presentation is woven together with video, photos, props and our well tested theories, not to mention our matching skin tight jeans!  As our story develops on stage you will see us just like we were the girls next door. There will not be a 'canned' solution to surviving, but a glimpse into what is possible. We don't believe in a one-size fits all approach to adversity.
"As diverse as we are as women, Jen and I agree that: There is no right or wrong answer, no formula, no vitamin as powerful as intuition. If we listen to the quiet whisper in our hearts or the screams of our souls, we will find our way through challenges. You can heal and not survive or you can survive and not heal. What matters most is that we keep our hearts soft or learn how to soften them again, that we keep an ear to the ground when our 'knowing' rumbles, and that we don't allow our wounds to define us, we define them — all the while rockin' our skin tight jeans/genes."
These quotations are from the draft outline of Heidi's next book with a working title of Taking Flight.  I think she says it better than I ever could. I think you'll love the book. While you're waiting for it to come out, check out her original book, Waiting for Wings. Now is your chance to give your audience a taste of what's to come.
Booking Heidi and Jen for your special event, whether your focus is on cancer survivor or women's health, guarantees that you will have a lively and educational event. Laughing and crying in the same segment, your audience will probably do what the audience in her video, which you can view here, do at the end of their presentation: rise as one and give them a standing ovation. For more information, give me a call at 503-699-5031 or email me at barbara@speakwellbeing.com
California Play Time
What a great trip. We took our time getting there — the coastal route, which requires a leisurely approach. I had not been south of Reedsport, Oregon. Once we had crossed over from the inland valley to Coos Bay, we drove along the California coast to Gualala, California, where we visited my friend and speaker Holly Stiel and husband Bill. There we got to walk through Holly's fairy path which I wrote about last year. This was the second time for me, and the first – definitely a First — for my husband, who is a very good sport. Actually, I believe he enjoyed it.  It was after all, an enchanting walk through a forest of both old and young coastal redwoods.
Then on to Berkeley and those adorable grandchildren. Armed with sidewalk chalk, belly button tattoos, fairy dust, and armloads of storybooks, I was prepared for a good time — which we had.
The first afternoon there, we snuggled into a big chair for a story, and I got to read to the kids my friend, Linda Viviane Lester's brand new book, Blossom, A Flower's Journey, which she both wrote and illustrated.  Having coached Linda (or at least been a listening ear) through the writing and publishing process, I felt very special that night: holding this very special children's book and two very special children on my lap, and reading it aloud. Those of you who are grandmothers know something of how I felt.
Wishing you special moments with the ones you love.  Take care of yourself for your well being and those you love.
Yours truly,
Barbara
For Your Well Being is published bi-weekly. We bring you insider speaker reports, exclusive stories about special events around the country, meeting planner tips, and fun stuff from the worlds of health and well being. Be well and be in the know!
The Speak Well Being Group is a specialized speakers bureau, focusing on speakers for hospital-sponsored community events, healthcare organizations, nurses, conferences and women's groups. Our speakers are hand-selected — they are not only experts in their fields, they connect with their audiences and deliver life-changing information, often with plenty of humor and empathy.

Finding the perfect keynote speaker for your special event or conference is my personal passion, not just once, but year after year. It brings me great joy to know that your audience was delighted and moved by the speaker we selected together. I'm committed to making the process easy, pleasant and fun.