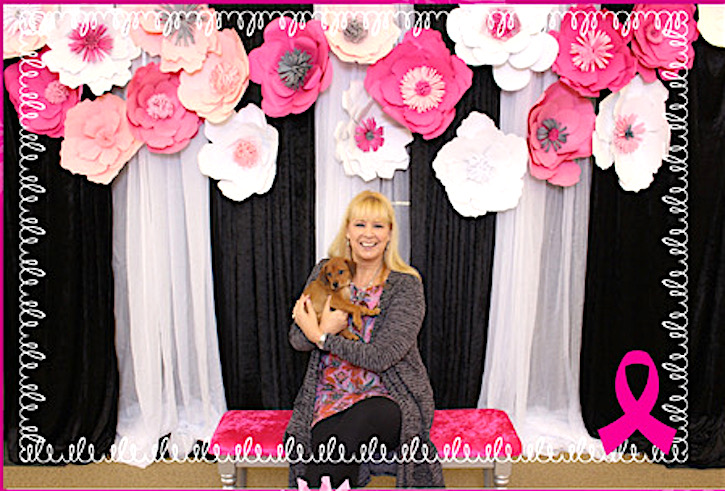 Jan. 30, 2018
Vol.16, Issue 1
As I scrolled through a Google alert, the big brown eyes of a beagle staring out
at me caught my eye, even though the image was just the size of a postage stamp. It was the cover of a book. Clicking on it for a closer look, I found that not only was it a beagle looking up at me, but it had a pink ribbon on its collar.
The title was even more intriguing: The Dog Lived (and So Will I) — a memoir by Teresa J. Rhyne. Reading further, I learned that both the dog Seamus and the author Teresa were cancer survivors.
The book was a #1 New York Times best-seller, and in a sequel, The Dogs Were Rescued (and So Was I), she details how her current beagles, Daphne and Percival, inspired her to adopt a healthier, more compassionate lifestyle. I bought the books and phoned Teresa, and now she is one of our most popular breast cancer event speakers.
An Evening of Bliss
At Mary Greely Medical Center in Ames, Iowa, they like to try out new formats and ideas for their annual Ladies Night Out, which promotes breast cancer awareness. Last year they thought it would be fun to hold it in a garden, and feature a best-selling author. Teresa Rhyne fit the bill perfectly with her New York Times best-selling book and her compelling survivor story. They called it "An Evening of Bliss."
Teresa's story started when, following a divorce, she set out to re-start her life. She had a new job, a new home, a newly rescued dog, and soon enough, a new boyfriend.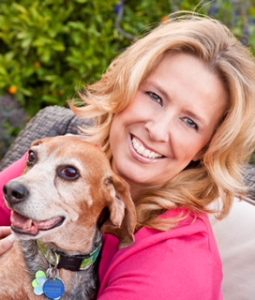 But within a year, Seamus, the beagle, was diagnosed with an aggressive cancer and given less than a year to live, even with treatment. Teresa and Seamus decided to fight the disease together, and the beagle not only survived but thrived well past expectations.
Soon after, though, Teresa herself was diagnosed with triple-negative breast cancer. Both battles were long and difficult. But, throughout her treatment, Seamus was a four-legged touchstone, his successful battle paving the way for hers and giving her the confidence to persevere. Happily, Teresa has had no evidence of the disease since that time.
With Seamus' inspiration she developed a presentation titled, "Focus on The Cookies—Everything I Needed To Know To Survive Cancer, I Learned From My Dog." In it she shares how she followed her dog's lead in beating cancer — those hard-earned lessons on surviving and thriving.
It's not just cute; in fact it's a howlingly funny presentation that leaves guests smiling, inspired, and ready to focus on finding the "cookies" in their own lives.
Although you might expect a speaker who is inspired by her dog to emphasize the cute and cuddly, she does not. As a motivational speaker who's been through her own battle, Teresa mixes humor with tough reality. Her approach is not all puppy tail wags and rainbows. She professes to be the inspirational and motivational speaker for the rest of us—those for whom "perky," "bubbly" and "chipper" do not come naturally but who must nevertheless overcome adversity, whether it's with a smile or a growl.
In her talk, your guests will get:
A strategy for thinking like an optimist even when they feel like a pessimist.
The knowledge that somewhere between pessimistic and perky, there's a survivor (just not in the dictionary).
The comfort of knowing that while laughter doesn't cure cancer, it sure makes the journey easier.
And quite possibly, sore cheeks.
Stephanie Marsau, Marketing Communications Specialist, and meeting planner at Mary Greely, was especially pleased with the results of Teresa's appearance.
"We have worked with Speak Well Being Group for several years, and when it comes to helping us find speakers – Barbara has not disappointed. Our speakers are extremely well received and this was no different with our most recent speaker – Teresa Rhyne. As one breast cancer survivor attendee put it, 'She struck the perfect balance. She was funny, but also was respectful of the fact that this is very emotional for some of us.' Simply put, Teresa was wonderful. She even stuck around and engaged nearly all of our attendees in conversation as she signed books for them."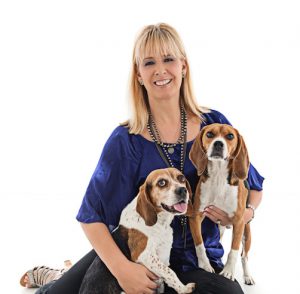 All attendees received a goodie bag that included a free copy of Teresa's first book. For every $10 ticket sold, $1 was donated to the Ames Animal Shelter. The host also provided delicious appetizers and a presentation about a new breast cancer risk assessment tool.
In addition to being a beagle-lover, author, and cancer survivor, Teresa is a lawyer, animal advocate, and traveler. She has been interviewed on CNN, CBS, and WGN as well as appearing in over fifty regional and national magazines and newspapers including Woman's World, Cesar's Way, First for Women, More, and Breast Cancer Wellness magazine. She lives in Southern California.
To plan a howling good time in your community, give me a call at 503-699-5031 or email barbara@speakwellbeing.com.
Going Back to the Dogs
Those of you who have been with me for some time already know why the beagle on the cover of that book caught my eye. I've been a beagle "Mom" many times over. So, I wanted to take this opportunity to introduce you to our newest one, Bindy.
As you may recall, we lost our beloved Bella to cancer last summer. That was very hard as she was only ten and it happened suddenly. I usually need at least six months to grieve, but this time was different. I needed to fill the hole.
Upon our return from our Michigan trip in August, we started what turned into quite a long search, with a couple of false starts until we found Bindy through Second Chance Dogs. On a Friday afternoon in October we drove to her current home in Olympia, WA, to be interviewed. Yes, we were interviewed.
Well, besides meeting her owner, we met Bindy, and I knew immediately she was a sweetheart. She seemed to like us, too (I took homemade treats). But because another couple would be interviewed on Sunday, we drove 2 hours home, empty-handed. After that interview, they would let us know.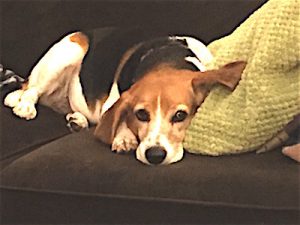 Driving home, I told my husband, I felt like the last two candidates on The Bachelor (or The Bachelorette), after the home town visits and meeting the family. Everything went well, you're in love, but you don't know if you'll be the one chosen or the one disappointed.
Happily, our suspense was short-lived. They called us Saturday morning and said they had liked us so much that they decided not to interview the other family. If we wanted her, she was ours! So we drove back on Sunday, and brought her home to Lake Oswego.
It didn't take long for all of us to adjust, as she is just a bundle of love. I have never had such an affectionate dog. She wakes up in the morning, tail and butt wagging, greeting the day — and me. I can't help but smile. It's like life is all Disneyland to her. "Pet me, pet me, love me," she demands. " I love you, especially when you feed me." I call her a love-bug. She lights up my life.
As Teresa shares in her book and her program, dogs come into our lives for a reason, steal our hearts, show us how to live, and teach us how to love. I have to go now, as I'm being recruited for a petting session, and possibly a walk, as soon as it stops raining.
Until next time! Take care of yourself (and hug a dog) for your well being and those you love.
Yours truly,
Barbara
For Your Well Being is published with the intention of bringing you insider speaker reports, exclusive stories about special events around the country, meeting planner tips, and fun stuff from the worlds of health and well being. Be well and be in the know!
The Speak Well Being Group is a specialized speakers bureau, focusing on speakers for hospital-sponsored community events, healthcare organizations, nurses, conferences and women's groups. Our speakers are hand-selected. They are not only experts in their fields, they connect with their audiences while bringing them life-changing information, smiles of recognition and ultimately a sense of well being and hope.
Finding the perfect keynote speaker for your special event or conference is my personal passion, not just once, but year after year. It brings me great joy to know that your audience was delighted and moved by the speaker we selected together. I'm committed to making the process easy, pleasant and fun.