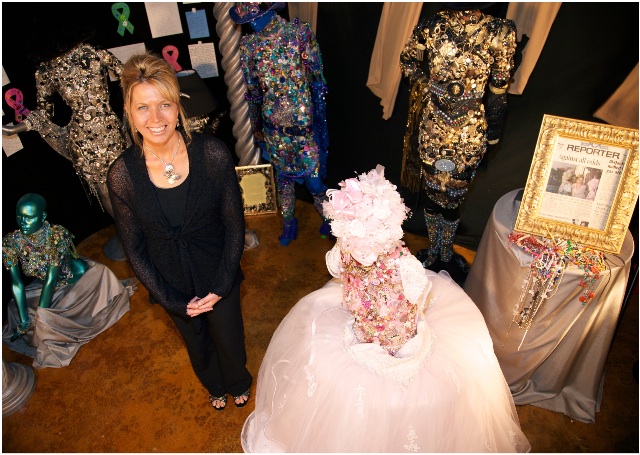 March 18, 2010, Vol. 8 Issue 2
I've always loved the idea of making something new from something old —  whether it was originally destined for another use or is a castaway. When I was an avid seamstress, I could never throw away the scraps, and I love cutting up magazines and making Vision Boards and cards.
So I was fascinated and intrigued when I met Heidi Marble a few months ago and saw her artistic creations made of castoff jewelry and buttons turned into life-size works of art. She's a breast cancer survivor with an inspiring story and a mission to make a difference in the lives of people who deal with any kind of cancer. And, better yet, this story has a fundraising twist. Read on.


Cancer as Creator:  Donate & Create
"I will survive!" is the phrase that characterizes Heidi Marble's encounter with breast cancer. At the age of 34, she was diagnosed with inflammatory breast cancer, a virulent form of breast cancer that is fast growing and has a tendency to spread early and quickly. Not only was Heidi young to be diagnosed with this form of breast cancer, she had to be very persistent to get a diagnosis. As happens to many women, she continued to sense that something was very wrong with her body, even as she was given benign explanations for her symptoms.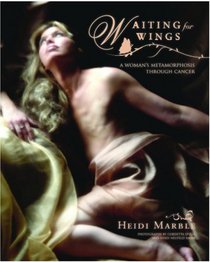 She chronicles her journey in her first book, Waiting for Wings, A Woman's Metamorphosis Through Cancer, taking the reader through her transformation from despair to hope. (The book is available from amazon.com).  In the book, as in her speeches, she weaves together intimate anecdotes, with humor, grace, and a sense of genuine dedication to helping others claim hope as a means to pull them through — not just to survive, but to heal and become whole. In documenting her journey — with brutal honesty and vulnerability —  she bares her soul and her chest for the cameras, as well as the doctors.
Within 13 days of her diagnosis, her hair was gone. She felt stripped of her beauty and all signs of life. The first time she saw her bald image, she thought she looked like a worm. That seemed harsh, so she decided that comparing herself to a caterpillar was a better idea. "It was then that I knew I would need to go through a metamorphosis, whether into survival or death; in either case change was coming. My cocoon would be created with hope, love, prayers and plenty of chocolate."
A friend, also named Heidi, offered to document her journey through photographs. "I wanted to leave a lasting testimony of my fight to stay alive so that one day my son would understand that I did not leave him willingly. Our photo sessions, though serious in nature, ended up being a source of fun. I sat half naked in trees, giant nests and on hard bricks with plants around my head just to get the perfect shot. The most powerful picture she took is one with the words, 'I Will Survive' written on my back with eyeliner. This was my declaration for life.  All the while, I would turn to my black journal and pour my feelings into words and poetry, never realizing a book was being born."
During her treatment, someone gave her a bracelet made out of old buttons. "I was fascinated by this tiny creation and the resourcefulness behind it. It made me consider how many ways we can use our life that aren't obvious. I wanted to recreate these bracelets for my friends," she said.
A little experimentation revealed that sewing bracelets together wasn't going to be her hobby of choice.
Instead, she picked up a glue gun and started to create picture frames, mirrors, hats and boxes. She expanded from buttons to broken bits and pieces of old jewelry, watches, pins and belt buckles that she found at junk stores. Soon people were giving her their unused trinkets. With every item she made, she included a watch and an angel. The watch is for more time and the angel is for blessings.
She played around with this for several years. One day, after the family moved to California, she was out scavenger hunting and found a bald, damaged mannequin that no one wanted.  "I immediately related to this pathetic form," she says.  "I purchased her and carried her out to my car. I hadn't thought about it ahead of time and it was quite an ordeal getting her into the car.  I finally maneuvered her into the passenger seat.  Driving home, I tried not to make eye contact with the people staring at me. That was a sight to behold.
"When I got her home, I didn't have any plans for her.  I proceeded to clean her up and wrap her in a bolt of black elastic. I set her up and slowly started adding jewelry and buttons.  Over the course of three years I created 'Jewels.' On a whim, I took her over to a local art gallery for its annual juried art show. Much to my surprise, Jewels won an award!" She had rescued a few more broken mannequins so went home and got to work on those. The gallery asked her to display more.
Today the idea has evolved into the "Donate & Create Program," to raise awareness of issues surrounding breast cancer and make a difference one piece at a time. The process involves putting the word out and collecting donated jewelry, buttons, watches and belts — usually in zip lock bags at designated collection points. Donors often include a piece of history with their contributions. The items are sent to Heidi and she creates a stunning life-size work of art.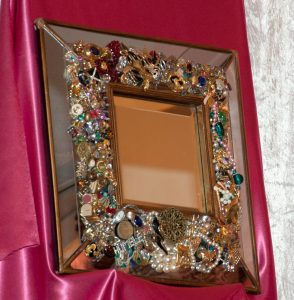 "I am honored to share any stories along with my art," Heidi says. She also emphasizes that there are many ways to execute the program and co-creating  with you, the event coordinator is encouraged. Sometimes the donors themselves take part in the creative process. The final piece of art is used in publicity for the sponsoring organization and can be auctioned off as a fundraiser. Or take it a step further with "Wear & Share." The pattern that's created is reproduced on clothing — T-shirts, scarves, etc. and sold to raise funds, sharing the story of how one cancer survivor joined by hundreds of others have created stunning designs of hope and healing.
It was a wintry day when I visited Heidi at home out in the countryside surrounding Battle Ground, Washington. When we walked around to the outside entrance of her studio so that I could see the mannequins, we were both appalled to find that an angel statue on the patio had fallen over and broken into several pieces on the ground. That didn't phase Heidi for a moment. She'll make something new out of it and I can't wait to see it.
Call or email me to talk about co-creating an event with Heidi. You can learn more about Heidi and watch a video here.
Cleaning for A Reason
If you know any woman with cancer, she should know about the Cleaning for a Reason Foundation. Fighting cancer is difficult enough, but living with it is even tougher – and that's where the Cleaning for A Reason Foundation steps in.  This nonprofit offers free professional housecleaning, and maid services to improve the lives of women undergoing treatment for cancer – any type of cancer.   It's a nationwide service and everything about how to apply, etc. is explained on the website — www.cleaningforareason.org.
Hope Springs Eternal
For those of you still staring at mounds of ice and snow, we send you hope.The fruit trees are in full bloom here in the Northwest, and mounds of daffodils are heralding spring. The next wave of glory — magnolias and tulips are about ready to pop. My morning walks are filled with the chirping of birds and frogs — or something very noisy coming from the swamp. Yes, we still have rain, but as the sun moves higher in the sky, more blue sky and light is shining through with the promise of warm, sunny days.  I'll be celebrating the equinox Saturday with a circle of women to welcome this season of fresh new beginnings.
Until next time, take care of yourself for your well being and those you love.
Yours truly,
Barbara
___________________________________________________________
For Your Well Being is published bi-weekly. We bring you insider speaker reports, exclusive stories about special events around the country, meeting planner tips, and fun stuff from the worlds of health and well being. Be well and be in the know!
The Speak Well Being Group is a specialized speakers bureau, focusing on speakers for hospital-sponsored community events, healthcare organizations, nurses, conferences and women's groups. Our speakers are hand-selected. They are not only experts in their fields, they connect with their audiences while bringing them life-changing information, smiles of recognition and ultimately a sense of well being and hope.
Finding the perfect keynote speaker for your special event or conference is my personal passion, not just once, but year after year. It brings me great joy to know that your audience was delighted and moved by the speaker we selected together. I'm committed to making the process easy, pleasant and fun.