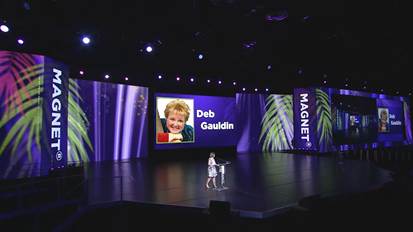 May 8, 2014, Vol. 12, Issue 8
Have you thanked a nurse today? It's National Nurses Week, a time of recognition and celebrations for hard-working and often under-appreciated nurses. And when I say thank a nurs
e, I mean acknowledge one whom you know personally.  Find a nurse and say thank you.
Do you have a sister, mother, grandmother, daughter, father, brother, aunt, uncle, cousin or friend who is a nurse?  If you drop her (or him) a text, an email, or even a phone call, acknowledging her this week, she will be delighted by the recognition. I know, because I did it. I acknowledged a nurse, and she was indeed both surprised and delighted.
Nurses week festivities kick-off each year on May 6th and end on May 12th, which is Florence Nightingale's birthday. Medicine has changed dramatically since her era, yet the desire to feel appreciated is timeless. I asked one of my favorite nurse speakers, Deb Gauldin, RN, for her observations about National Nurses Week appreciation. I think you'll enjoy her thoughts.
Celebrating Nurses:
What Works and What Doesn't
Deb Gauldin, RN, has been a singing nurse and a really funny speaker for many years.
She has witnessed some wildly successful ways to appreciate nurses, as well as some fiascos. In her forthcoming e-booklet, Celebrating Nurses: What Works and What Doesn't, she shares the good, the bad, and the ugliest of stories about nurse appreciation events, collected from nurses as well as administrators. (We'll let you know when that is available so that you can download it).
Some of her interviewees describe elaborately themed galas. Others report having been given the same imprinted coffee mug or insulated lunch bag – 3 years in a row. In one case employees were promised a visit to each unit by a traveling ice cream sundae station. The ugly part came when the sundaes were served in tiny fluted medicine cups. Ouch.
One nurse, who had received a gift pen with a retractable string attachment, put it this way. "I don't mean to seem ungrateful, but the only way a pen-on-a-rope will retain a nurse … is using it to tie her to the nurse's station!"
According to Deb, two favorite nurses week themes do stand out:
The times when nurses feel reconnected to the reasons they chose nursing as a profession in the first place.
The times when nurses were given opportunities to share stories and laughter with one another.
That's where a speaker such as Deb can spark up a Nurses' Appreciation event. Professional speakers and humorists are skilled at creating just these kinds of experiences and memories.
This year, I noticed an increase in the inquiries for nurses week programs seeking to refresh their nurses with humor.
Deb, who is indeed, a very funny lady began studying the science and application of healthy humor and laughter in 1994, when she joined the Association for Applied and Therapeutic Humor (AATH). Deb is currently an AATH Humor Academ
y advisor and contributing editor for the Journal of Nursing Jocularity.  (Yes, Virginia, there is a Journal of Nursing Jocularity!)] She spoke at the International Society for Humor Studies 2012 Conference in Hong Kong and has been enthusiastically received by hundreds of nurses from all parts of Asia. Deb has contributed to a number of books on the subject of humor, including Humor Us: America's Funniest Humorists on the Power of Laughter and Using Humor to Maximize Living.
For a 30 second sample of Deb's humor in action, click here.
When I asked her about this topic, she noted that she used to have to educate leaders about the importance of laughter in relieving stress and handling difficult situations. Today, she said, she no longer needs to convince administrators about how humor contributes to a positive work environment and ultimately, to healthier patients; they already know.
"And it should be noted that we're not talking about laughter, just for the sake of laughter. We're teaching the skills of using humor to get through tough situations both personally and professionally," she said. "So they go home with skills to help them in their daily lives."  It doesn't hurt that they also go home with smiles on their faces.
As for those little fluted medicine cups, Deb recalled presenting a program titled "Nurses!
You Take the Cake."  At the conclusion of her program, individually iced and decorated cakes were to be served to the nurses from silver trays. To make a point about the "crumbs" nurses sometimes settle for, Deb had put medicine cups filled with crushed cookies at each place setting. Waiting to be introduced, she peeked from behind the stage curtain, just in time to see the attendees sprinkling what they assumed were croutons onto their salads! They had a good laugh later when she let them in on the joke, and by then the only thing left in the cups really were actual crumbs!
Members of the nursing profession experience certain stresses that are unique to their calling. Outsiders may not be familiar with them. I know that one of the things that makes our nurses appreciation speakers so powerful is that many of them are or have been nurses. They know the inside language, challenges, difficulties, triumphs and losses, sorrows and joys. As skilled professional speakers, they share their stories and translate their knowledge into uplifting messages that rekindle the flame and put a smile back in the hearts and faces of the nurses they touch.
Whether you're a meeting planner or you know someone responsible for planning nurses week or any other nursing event, check out the Speaker Directory on our website.
In the pull-down menu, look under EVENT TYPE and click on NURSES APPRECIATION, or NURSING EDUCATION. Or better yet, call or email me personally and take advantage of my expertise.
Having worked year after year with event planners on nurses week celebrations, I, like Deb, understand some of the inherent challenges in nurses week celebrations and have insights and experience with what works and what doesn't work. Professional expertise — use it! And increase your success using less time and energy.
The 2014 theme established by the American Nurse's Association is "Nurses: Leading the Way." So happy Nurses Week to you, and let The Speak Well Being Group lead you to the very best  "appreciation specialists" in the business!
Speaking of Celebration, Mom's the Word
It's been a long time since I bought a Mother's Day card, thought about a gift or a special meal. I lost my Mom to lymphoma many years ago, at the sweet young age of 59. I was only 34, unmarried and not a mother. Having both of us survived my terrible teenage years, we had become best friends, even though we lived thousands of miles apart (or was it because we lived far apart?) I loved my Mom.  Still do.
This year I'm actually going to celebrate Mother's Day, because we've had the wonderful pleasure of my husband's daughter and granddaughter living here in Lake Oswego, for a few months while Emma, 16, goes to high school here in the United States for a term. You see, they actually live just a few thousand miles away — in Prague — and we normally see them maybe once a year for a week or less. What a delight it has been to share daily activities and meals with them, and entwine our lives with all the comings and goings of daily life. And, by chance, our grandson will also be visiting here this week, so Mom gets to have both her children with her here in the U.S. for Mother's Day. And she gets to be with her Dad and me! Sounds like reason for a celebration to me!
I still miss my Mom. Yet paradoxically she's always with me. She visits me in little ways. I
recently ran across her handwriting on a poem I wrote that she had helped me edit.  And a cartoon she clipped for me popped out of a drawer the other day.  Then there's the box of letters that I just un-earthed in the garage. They chronicle those years from the teenager who left home to go to college and then created her own independent life all the way to the young lady who lost her Mom and best friend at 34. I'm working up the courage to look at them again.  I know I'll need a box of Kleenex nearby.
Until next time, wishing you appreciation and celebration. Take care of yourself for your well being and those you love.
Yours truly,
Barbara
For Your Well Being is published bi-weekly. We bring you insider speaker reports, exclusive stories about special events around the country, meeting planner tips, and fun stuff from the worlds of health and well being. Be well and be in the know!
The Speak Well Being Group is a specialized speakers bureau, focusing on speakers for hospital-sponsored community events, healthcare organizations, nurses, conferences and women's groups. Our speakers are hand-selected. They are not only experts in their fields, they connect with their audiences while bringing them life-changing information, smiles of recognition and ultimately a sense of well being and hope.
Finding the perfect keynote speaker for your special event or conference is my personal passion, not just once, but year after year. It brings me great joy to know that your audience was delighted and moved by the speaker we selected together. I'm committed to making the process easy, pleasant and fun.