Share
Praise
"All I can say is….Wow!  Ronda, you are the best storyteller I've ever heard.  You had the audience in the palm of your hand the entire day and I've had many say this was our best conference yet!  Thank you for coming to speak at our Women's Conference.  You have motivated and inspired me and many others more than you'll ever know." -- Jenny Golden, Director Community Wellness, The Medical Center, Bowling Green, KY
Southern Author and Humorist Storyteller
Fasten your seatbelts, ladies (and gentlemen!) — Ronda Rich excels in the kind of storytelling for which Southerners are renowned: funny, lyrical, entertaining, thought-provoking and inspirational. This former NASCAR reporter may not show up in white gloves, but with lipstick and mascara in place, she dispenses wisdom and humor with a flair for the funny side of life.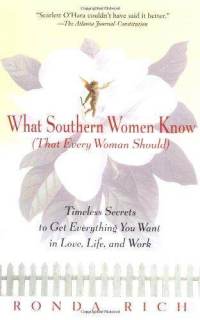 Ronda is the best-selling author of What Southern Women Know (That Every Woman Should), a book that is now in its 25th printing, after being bought by a major New York publishing company during a four-day auction. That book launched a new career for the former award-winning sports writer, who has now become a popular Southern sage, giving out musings and observations in her weekly, syndicated newspaper column and speaking nationally as a humorous and inspirational speaker. She is also a commentator on Southern life for Georgia Public Broadcasting.
An 11th generation Georgian, descended from the Scotch-Irish who settled into the foothills of the Appalachians, she inherited her family's sole wealth – a talent for storytelling. While you get a taste of this in her best-selling books and weekly syndicated column, her stories come to life vibrantly in front of an audience, holding folks spellbound as she weaves tales of life in general, and Southern life in particular.
Her newest book, There's a Better Day A'Comin', (Running Press, Sept. 2012) is full of uplifting, encouraging stories of people, both famous and not, who crashed against a wall of adversity but didn't give up. Instead, they pushed through – with the odds against them – to find a better day. This book, with an inspiring, powerful tone, reminds readers of one of life's most enduring truths: Regardless of how hard times get, better days always come again.
In What Southern Women Know About Faith (Zondervan, 2009), she tells stories of happiness and heartache, friends and family, and a faith that's strong enough to handle anything life throws your way.
In 2002, HarperCollins released a memoir of her years in NASCAR racing as a journalist and publicist. My Life In The Pits became a favorite among readers and critics including renowned broadcaster Paul Harvey who called it a "great read" and the New York Times who called it "one of the greatest sports books ever written." "Ronda's NASCAR stories are awesome!" said one client. "Even if you don't know anything about the sport – and I didn't – you find yourself absolutely wrapped up in stories that are fun, moving and very powerful."
Continuing her successful streak as a writer of Southern stories, her two other books, What Southern Women Know About Flirting and The Town That Came A-Courtin', Ronda's critically-acclaimed first novel, were both released by Penguin-Putnam on the same day. This marks the first time in publishing history that a publishing company released two books on the same day by an author.
She has appeared on dozens of television shows including The View, The Other Half, Best Damn Sports Show, CNN and appeared in many magazines including Cosmopolitan, Redbook and Woman's Own.
As a noted Southern humorist, Ronda never delivers a presentation without humor. However, as an inspiring motivator, she often includes powerful stories that will move audiences. She is happy to tailor any presentation to the specific needs of the client.
Most Popular Topics:
It's More Than The Drawl, Y'all
Hilarious Tales of Southern Womanhood. Overwhelmingly popular, this topic is pure entertainment.
Laughter In The Fast Lane
Stories from the NASCAR circuit. Good for mixed groups and male audiences.
Finding Your Dream When Everyone Thinks It's Impossible
Inspiring, funny stories about others who have succeeded against the odds.
Moments Of Kindness
How lives can be changed by one moment in time. Good for non-profits, young people and graduations.
The Next Best Thing To Winning Is Losing Because You're Playing The Game
Drawing on her NASCAR and sports reporting experience, Ronda inspires and amuses with this presentation. Especially great for male audiences.