Share
Praise
"Victory Day was an especially moving day this year because of the motivational talk shared by Heidi Kramer, a remarkable woman who exemplifies the true spirit of survival." -- Marlene Israel, VIce President, Public Affairs, John T. Mather Memorial Hospital
Breast Cancer Survivor, Nutrition Expert
Heidi Kramer is a Registered and Licensed Dietitian with a B.S. in Dietetics, Nutrition and Food Science from Northern Illinois University. She is a nutrition consultant, inspirational speaker, and author with over 20 years experience in public speaking and the healthcare industry.
Heidi  loves fresh food!  She loves talking about it, writing about it and preparing it for family and friends.  Mostly, she finds joy in gently nudging individuals back into the kitchen – where they often find themselves zesting lemons for the very first time!
As a nutrition expert and breast cancer survivor, she has inspired audiences of 10-10,000 with the message of hope and healing and achieving one's personal health best. She lives in Cary, Illinois where she meets clients for consultations, teaches weekly classes, facilitates her widely popular "Inspired Living: A Healthy Weigh of Life," and "Healthy Bites" programs and maintains a food and lifestyle blog, "Fresh And Simple."
Heidi is a contributing nutrition writer for McHenry County Living Magazine where she is inspiring health and wellness in her own community.  She is a member of the American Dietetic Association and the Illinois Dietetic Association.
Heidi has always believed that creating balance and wellness in your life happens one healthy choice at a time!
Most Popular Topics:
Tastefully Inspired
A Fresh Approach To Wellness
Tastefully Inspired is a unique blend of sound nutrition information and culinary delights designed to inspire healthy survivorship!  Fresh food is the thread that weaves this delightfully fun and delicious program together, but that's not all!  Heidi takes your audience on a journey of cancer survivorship, celebration and joy as she shares stories, humor and ultimately the discovery of the tools she herself relies on for living well!
If it's been awhile since you've eaten a bean or livened up your greens, or if you've never considered sweet potatoes for breakfast, you're in for a thrill!  Heidi inspires us all back to the kitchen table, where nourishment heals and the "happenings" of our lives are best shared.  She challenges us to create and engage with food (and life) in new and joyful ways and shows us that healthy survivorship is all about one deliciously healthy choice at a time!
---
Heidi Kramer & Kerri Sherwood
Heidi, Cancer Survivor
Kerri, National Recording Artist, Singer-Songwriter, Pianist, Composer
Celebrate Sweet Life
A Celebration Performance for Cancer Survivors and Those Making a Difference
Diagnosed with breast cancer at 38, Heidi never dreamed she would soon heal and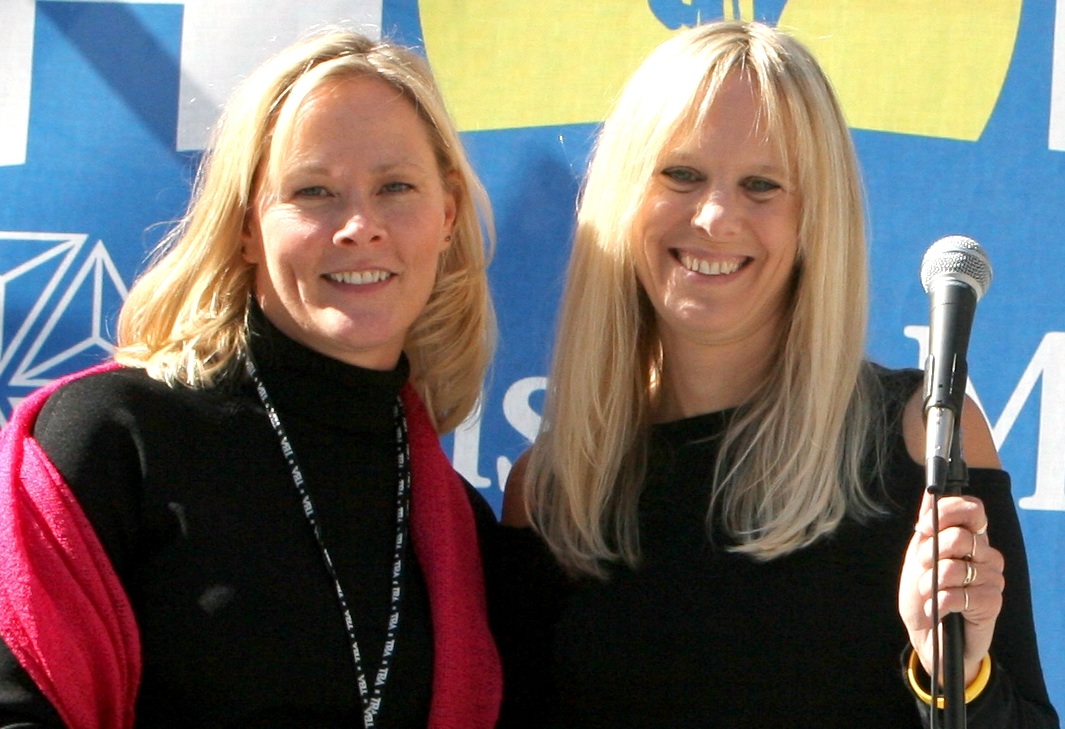 become a wife and mother. As an inspirational speaker Heidi's stories reveal her unique discovery of faith, hope (found in a few eyelashes that just refused to fall out!) and healing.
Kerri (who lost her brother to lung cancer) is a Yamaha Recording Artist who performs in concert and has released 15 albums. Kerri and Heidi are real life women; wives, mothers, sisters, car-poolers, neighbors . . . passionately balancing career and home.  They bring to the stage exactly what their audiences are living, exactly what they understand and connect to.
With this heartfelt connection and a mixture of music, song and stories interwoven together, Heidi and Kerri create a performance few people can forget or walk away from untouched.  Celebrate Sweet Life, will make your audience laugh, think, cry, breathe, hope and find joy. It captures the very essence of survivorship!
Empowering Music
Original music written and recorded by Kerri Sherwood includes:
"In A Split Second" (written by Kerri for Heidi upon diagnosis of breast cancer)
"You Make a Difference" (written originally for the 2003 San Antonio Breast Cancer Symposium)
"I Am Alive" (written originally for the 2005 NYC Revlon Run/Walk for Women)
Celebrate Sweet Life
A Celebration Performance for Women
Life and work translate to inspiring stories and songs delivering the affirming message that our passions and our work make a difference in the world.  We celebrate the diverse roles of women, our strength and courage, our families, friendships and the sweet moments of life that we come to realize are our greatest joys!  Kerri and Heidi combine real life stories and humor with vocal songs and emotional piano melodies – creating a performance that touches women and speaks to their spirit!
Emily Dickinson once said, "To live is so startling it leaves little time for anything else!"
Celebrate Sweet Life, A Celebration Performance for Women, is a powerfully touching performance that will make your audience laugh, think, cry, breathe, hope and find joy, and reminds us that all moments are treasured moments!