Share
Praise
"Erin Cox is a dynamic and engaging speaker who makes you want to get up and cheer. Even when she's speaking to a large auditorium filled with people, you feel as though it's just the two of you sharing a glass of wine and chatting about life, love, and family." - Meadow Linn, Author of The Mystic Cookbook
Author, One Hot Mama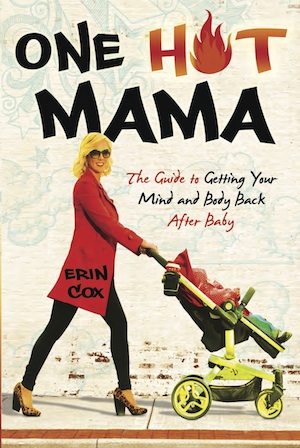 Erin Cox is a business strategist, speaker, best-selling author, and the mother of three young children. Erin's first book, One Hot Mama: The Guide to Getting Your Mind and Body Back After Baby, was published by Hay House in November 2012. Her powerful messages ring true for all – that we need to take utmost care of our physical, mental, and spiritual well-being so we have energy and joy to pursue our passions and live our lives to the fullest.
Erin's academic background is in biology and water resources engineering. Toward the end of her 13-year career, she worked in business development for one of the world's largest engineering firms. Erin is now using her business development expertise and the experiences of starting her own business to coach others on how to launch and grow their soul-driven businesses. Her mission is to help people create lucrative businesses that support desired lifestyles, and use unique gifts to make the world a better place.
Most Popular Topics:
One Hot Mama: How to Live a Hotter, Healthier, and Happier Life Now 
Do you ever feel overwhelmed or unfulfilled, or that you aren't living your life to the fullest? Have you ever felt like you've lost yourself to your marriage, your role as a parent, or to your career?  Do you crave more energy and to feel sexier in your romantic relationships? Erin Cox will help you get your life back on track and will support and guide you with several concrete steps to help you look and feel fabulous, and live every day with more joy. Her powerful messages ring true for all women – that we need to take utmost care of our physical, mental, and spiritual well-being so we have energy and joy to pursue our passions and be the partners and parents we have always aspired to be.
Create Success on Your Terms
For many of us, success means a powerful title, a six-figure salary, or a beautiful home. While these are great accomplishments, the pursuit of this success leaves many feeling overwhelmed, unsatisfied, and drained. The new definition of success is freedom…freedom with your time and finances. For Erin, success meant having freedom to spend a lot of time with her children, while also using her greatest gifts to serve humanity and foster her entrepreneurial spirit. A life of success now means feeling healthy, peaceful, grateful, abundant, joyful, light-hearted, influential, and generous. This talk encourages people to think about the pursuit of success and happiness in an entirely new way, focusing on what brings true and long lasting satisfaction and joy.
Realign with the Divine for Your Best Life
One of the most common struggles and significant sources of underlying discontent is people not living in alignment with their ideals or priorities. Many people say they prioritize spirituality, however they spend nearly no time on meditation, prayer, or focusing on their spiritual growth. The demands of daily life have gotten in the way. Erin has found a number of profound solutions to guide all of us and encourage a massive shift toward realignment. Erin will inspire all to rediscover their divine purpose, ideals, and most important priorities. In a world where so many of us are sleepwalking, not completely awake or engaged in our lives, and this talk will help people realign themselves with the divine and live with more purpose and joy.