Share
Praise
"Anne-Louise was WONDERFUL and Aunt Lena even better! Great speaker and an even nicer person!!!!" -- Sherry Turchetta, Community Education Specialist, Altoona Regional Health System, Altoona, PA
Musical Humorist Spreads Audacious Joy
Anne Louise Sterry is an internationally-known speaker and award-winning recording artist, author, singer-songwriter, and master storyteller. Always positive and empowering, Anne-Louise brings energy and pure authenticity to her audiences — she lets you see right through her and into her heritage and her alter-ego, Aunt Lena, an amalgam of all of her exuberant Italian aunts.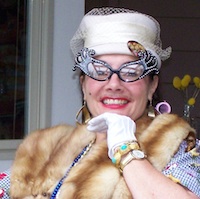 She performs across America and Europe in concerts and keynotes presenting her thought-provoking and hilarious approach to living life audaciously. She not only brings smiles to peoples' faces, but goes a little deeper with her cutting-edge Mediterranean wisdom to make a real and positive difference in their lives.
Anne Louise has a background in psychology, nursing, education, and performance art. She hosts two shows on The Women's Information Network. As Aunt Lena she wrote the book "Aunt Lena's Cucina," and is the co-writer of the award winning theme song, "This Is Our Time" for International Women's Day 2011. She has recorded and produced six CDs music and storytelling CDs, and her CD "Making Ravioli" won the 2003 Children's Music Web Award for Best Spoken Word Recording for Older Children.
Most Popular Topics:
You're in Charge: Or as Aunt Lena says, "You Gotta Make Your Own Gravy."
Internationally-known motivational speaker, humorist, and presentation coach, Anne-Louise Sterry knows how to capture her audience. As she speaks to your group, the themes of living kindness, embracing personal responsibility, and the power of changing your story are woven throughout her presentation. You have more power to influence yourself and those around you than you think! Or, as her alter ego Aunt Lena would say, "It's all about da stories youse are telling yerself!" Anne-Louise brings a background in psychology and the most current brain research to inspire your group into action by actually helping to rewire the brain. They will leave genuinely moved to make immediate and enduring positive changes benefiting themselves, their families, and their co-workers.
So You Think You Know Me? The Ins and Outs of Relationships
Take a psychiatric nurse, cross her with comedienne Carol Burnett, add a touch of Dr. Phil, and what do you get? ANNE-LOUISE STERRY plus her alter ego AUNT LENA on the topic of Relationships!
Using stories, songs, laughter plus a wealth of experience gained by raising three children and 37.33 years of marriage (but who's counting?), her study of the brain and emotions, Anne-Louise and Aunt Lena share tools and tips for growing our relationships. No matter whether we are talking about a lover, spouse, a family member or a friend, relationships are the glue of our lives. More delight and more joy are available for all of us! This is not just a presentation, it is an EXPERIENCE! You and your relationships will never be the same.
Downshift for a Larger Life
Downshift: A change of gears preparatory to accelerating past an obstacle or attaining a destination.
Seven years ago Anne-Louise and her husband Robert made the decision to downshift. From moving to a smaller house to changing the focus of their lives to working side by side, Anne-Louise tells the real story of a decision and its consequences – the good the bad and the ugly!
With humor, music, songs, and stories from her own and others experiences Anne-Louise brings downshifting to life, and shows how reductions in things of dubious consequence and meaning make way for an expansion and acceleration toward things of real value and satisfaction. Adding the perspective of her outspoken and prescient alter ego Aunt Lena; imagine a zany Italian aunt; will make the process of finding your 'shift' even more fun.
Rewiring the Brain for Audacious Joy in the Workplace
Would your business benefit from more employee engagement resulting in a more creative and highly motivated staff? Would teams with less absenteeism, reduced stress, and communication that works improve morale? And what about better employee retention? Yes, of course! All of these things would help your organization. Internationally-known motivational speaker, humorist, and presentation coach, Anne-Louise Sterry uses the most current brain research, the persona of her alter ego Aunt Lena, in addition to her own inimitable style to move your employees and managers to make immediate and enduring positive changes benefiting themselves and the company. She is able to share these tools in an entertaining way that will have you and your employees astonished at the change they bring. Caution: Audacious joy is contagious!
Saving the Bottom Line in Troubled Times
We hear it every time we turn around. Times are tough. The economy is terrible. And more and more people are becoming depressed and defeated. But, it is a proven fact that people make better decisions when they feel good, when they're happy, when they're joyful. That means more employee engagement. With a background in psychology, nursing and education, internationally-known presenter Anne-Louise Sterry is an exceptional motivational speaker who will have your employees howling with pleasure. Joined with her alter ego, Aunt Lena, they will show how rewiring the brain for joy helps employees be self-accountable, able to consistently perform better, have better communication skills, are more productive, and can deal with change better. As Aunt Lena says, "Audacious joy for higher profits, dolls!"