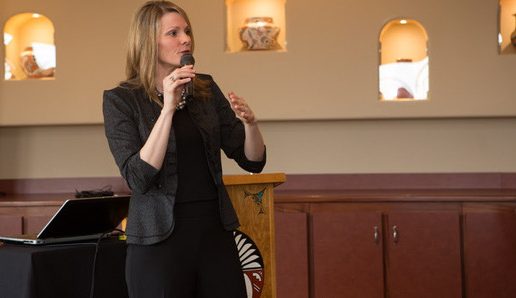 January 26, 2017
Vol.15, Issue 1
Every year in January, we hear the same rhetoric about resolutions, commitments and promises to get healthy — diet and exercise goals that typically don't last long. What if, instead of a goal, health was viewed as a lifestyle, a way of living? Big difference, yes?
That's the philosophy of our speaker Angela Gaffney, author of the new book Feel Good, Look Good, for Life. She should know as she overcame a life-threatening disease by changing her lifestyle and making herself and her body, her #1 priority.
Now her passion is to share these same proven strategies to help others lose weight, boost energy, rid their bodies of pain, and regain a zest for life. And she has a knack for enrolling audiences in her passion and transforming their lives.
Angela Gaffney
Feel Good, Look Good, for Life
"Your body supports you day in/day out," Angela Gaffney states. "The way we feel, how we interact in life, it impacts everything we do. Healthy isn't a goal; it's a way of living."
After two years of suffering from severe joint pain and inflammation, chronic stomach aches, brain fog, and very weak muscles (she could no longer hold a pen) — and finding no answers or solutions — Angela approached her doctor's appointment on Nov. 4, 2008, with hope. Finally, a diagnosis. The news, however, was not good: "You have a rare neuromuscular disease called Mitochondrial Myopathy," the doctor said. "The bad news is that it is a progressive disease; it will attack your various organ systems and cause drooping eyelids, diabetes, blindness, deafness and paralysis. I've never heard of a positive outcome. You need to go home, read as much literature as you can and prepare for what's to come."
"It felt like my life fell apart in an instant," Angela writes in her new book, Feel Good, Look Good, for Life, "but the reality was it had taken years for this unruly, inexplicable event to occur. I had plenty of thoughts through the years about how my life might pan out and never
in my wildest dreams did I expect to be told I needed to go home to prepare for a disease to progressively attack my body, and in the end, take my life. There were many dark days to follow this news, but in time my journey would include days of positive movement forward, each bringing me one step closer to regaining my health."
Angela had been a busy wife and Mom of two, engrossed in her work, living on convenience food and diet Coke until her energy tank ran dry each night. The next day, she'd repeat the cycle. While she exercised, and "looked" fit, her body was suffering from a very unhealthy diet, and a go-go-go, lifestyle that had finally caught up with her.
"When I was in the thick of it, I couldn't see beyond my symptoms, and the fear of losing the very full life that I came to realize was consuming me," she recalled.
While the diagnosis was devastating, it was a wake-up call. "I went into the doctors with the attitude that if they could just tell me what was going on, I would do anything to make it better." It took a little time to digest that diagnosis, and then the light bulb went off — she would do anything to regain her health.
She dove into her quest with zeal and curiosity. Nutrition was the likely place to start, and so she started searching online for information about foods. Since her disease was cell-based, she searched for foods that support the cells. She asked questions, like, what exactly is an "antioxidant" and what does it do? Then she proceeded one step at a time. First she banished artificial sweeteners from her diet, then high fructose corn syrup. Next she replaced conventional fresh produce with organic, and she started learning to cook from scratch. She traded out non-stick cookware for stainless steel, and then she removed all the toxic cleaning products from her home. Remember, this was one step at a time.
Although she began feeling better, she was not yet high functioning. So for her next step she sought holistic care. Testing by a naturopath revealed high toxicity mercury and uranium poisoning, candida overgrowth, and food allergies.
"It was two years before I was fully functioning," she told me in a recent interview. "About halfway through the process, as I started to see results and feel better, I developed a burning passion to teach other people how to heal themselves. I wanted to show them how the choices they make impact them for the long haul.
"I decided to get a Health Coach certification, and when I was researching programs, I chose the Institute for Integrative Nutrition, because their program is about much more than nutrition. It's about creating healthy boundaries and making better life choices. That is the foundation of what I teach today. I wouldn't be where I am today without this foundation."
Angela would be the first one to tell you that it's impossible to change everything overnight. She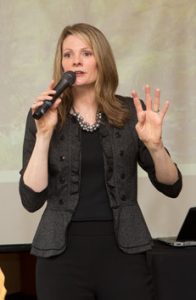 advocates taking one simple step each day to move forward, to make a difference in your health and happiness and eventually to transform your life. She is practical, sharing tools that will challenge your thoughts, help you create new habits, learn new behaviors, and forever change your life. She's also realistic in recognizing that you must be the one do the work — implement the practices she advises, and choose differently than you have in the past and you can create change in your life.
She is all about respect for the body. "Your #1 fan and greatest supporter in life," she says, "is your body." Her approach is holistic. "It's not just about diet. To achieve long-term health, what's most important is to nourish your body in every aspect of life."
Seeing this vibrant woman speak, and hearing what she's been through, you can't help but be inspired to make changes to improve your own health. Her style is light, informative, engrossing, and with enough humorous anecdotes to remind us all of the common humanity in all of our struggles.
But most of all, she moves her audiences. They emerge from her talks with changed attitudes and new abilities to understand and control their own destinies. And it's that passion to give your people both the inspiration and the unforgettable path to live better, longer, and healthier – that's why you book a speaker like Angela.
To learn more and bring Angela to your community, visit her page on my web site  where there are numerous videos so you can see her compelling delivery for yourself, or give me a call at 503-699-5031.
A New Year
So, how's it going? I've pretty much given up on high expectations for a new year, because it doesn't take long, it seems, for stuff to happen, and soil the clean slate. We've had major weather events here in Portland in the first couple weeks of the year — overnight ten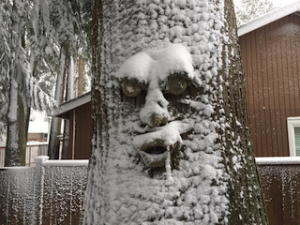 inches of snow fell when it normally doesn't snow at all. An inch is usually enough to close the schools and everything else.
And it was cold, so this stuff hung around for days, and to top it all off, a layer of ice covered the snow in some parts of the city. With trees down over many streets and sidewalks, the novelty wore off pretty quickly, although the tree face in my backyard lasted nearly a week. At least the electricity in our house stayed on, although many were not so lucky.
Secondly, I've had computer issues. Email went down early in January and it took a couple days to find the culprit and the solution. And then a few days ago, I discovered that speaker inquiries from my website were not getting to me, due to some malware on my beautiful new website.
Ugh! But all fixed now. If you visited my website and didn't hear from me, please try again!
That's not even to mention all of the unrest that surrounds us as the new U.S. Administration goes into effect, and everyone seems on edge.
Somewhere in all of this, I did decide on a word to ground myself with this year, and that is "compassion." We're all walking around with stuff going on — our worries, our cares, our hopes and dreams for our loved ones and ourselves. My father once told me that my mother was the most compassionate person he had ever known. So, when I catch myself being critical, or judgmental, or simply unhappy about something, I'm trying to remember compassion for others, (as well as myself) to be like my Mom.
Until next time, take care of yourself for your well being and those you love.
Yours truly,
Barbara

For Your Well Being is published bi-weekly. We bring you insider speaker reports, exclusive stories about special events around the country, meeting planner tips, and fun stuff from the worlds of health and well being. Be well and be in the know!
The Speak Well Being Group is a specialized speakers bureau, focusing on speakers for hospital-sponsored community events, healthcare organizations, nurses, conferences and women's groups. Our speakers are hand-selected. They are not only experts in their fields, they connect with their audiences while bringing them life-changing information, smiles of recognition and ultimately a sense of well being and hope.
Finding the perfect keynote speaker for your special event or conference is my personal passion, not just once, but year after year. It brings me great joy to know that your audience was delighted and moved by the speaker we selected together. I'm committed to making the process easy, pleasant and fun.